Flashpoint
(1984)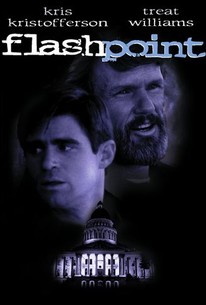 AUDIENCE SCORE
Critic Consensus: No consensus yet.
Movie Info
Bob Logan (Kris Kristofferson) and Ernie Wyatt (Treat Williams) are freewheeling U.S. border patrol officers in a tiny Texas town. Though they're "oil and water" in terms of personality, they're a dynamite team on the job. Coming across a million dollars in stolen money, their relationship threatens to unravel. Upright Wyatt is all for turning in the money, but Logan has other ideas. Soon, however, they're reunited against several common enemies, including a team of overzealous FBI agents. Flashpoint is based on a novel by George La Founteine.
Rating:
R
Genre:
, , ,
Directed By:
Written By:
In Theaters:
On DVD:
Runtime:
Studio:
TriStar Pictures
Critic Reviews for Flashpoint
There are no critic reviews yet for Flashpoint. Keep checking Rotten Tomatoes for updates!
Audience Reviews for Flashpoint
I love movies that have an entire plotline of their own, but ends up tying in to an historical event that has been controversial or wrapped in mystery, which in the end, offers an alternative to the popular belief. Another example would be The Hunt For Red October.
DAvid Gripon
I always like to plug obscure films that are also good. Especially films about the JFK Assassination. This film shows how the Federal government could try to cover up who was behind the JFK Assassination. The film was well acted. But I did not like how the film fails to really come up with a concrete theory on who was behind the assassination & why JFK was killed. The film does loosely suggest that the Dallas Police & the Federal government was behind the killing. But fail to explain why. My interpretation would suggest that the film also implies that JFK was killed at least partly because he wanted to get rid of the Federal Reserve System & supported the silver backing of currency. This could have been a great movie; if it would have had a theory to analyze. I personally believe that LBJ along with the Military-Industrial Complex & the Business establishment had him killed, because he wanted to get out of Vietnam, JFK wanted to cut the oil depletion allowance, and wanted to dump the Federal Reserve. He was a large threat to the Texas Oligarchy that essentially runs the country. JFK was killed more due to economics than anything else. I am well read on the subject for more than 20 years. The Texas Oil Barons were also huge lobbyists for the Vietnam War. I do think that this film was better than Ruby (1992). I do not think it was as good as JFK or Executive Action or The Trial of Lee Harvey Oswald (1976). I think that Executive Action was the best in this genre. Flashpoint has a lot to say about our government & about life. It's cynical but also very entertaining. It was actually better, than I thought it would be. The film was also way ahead of its time in predicting the surveillance state of the Federal government. Really good performances from Torn & Kristofferson. Don't miss this one.
David Bocek
good movie with notable actors. Three of which were in the Robocop series. It was definitely a movie I felt that started out strong but seemed to be hampered by budgetary reasons. I felt the story could have been expanded more but then it is one of those movies that is between a B movie and an A movie. I don't know how to describe it.
Matthew Marks
Flashpoint Quotes
There are no approved quotes yet for this movie.
Discussion Forum
Discuss Flashpoint on our Movie forum!