Ochazuke no aji (Flavor of Green Tea Over Rice)
(1964)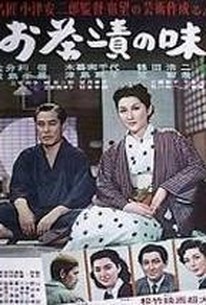 AUDIENCE SCORE
Critic Consensus: No consensus yet.
Ochazuke no aji (Flavor of Green Tea Over Rice) Photos
Movie Info
Re-released in 1972, Ochazuke No Aji, or The Flavor of Green Tea Over Rice, is one of those films whose transcendent simplicity transforms an ordinary story into something special. A man with very simple tastes and habits meets with growing exasperation from his more sophisticated wife. She treats him with increasing disrespect and nearly has an affair, but something changes her attitude and she returns to him with an appreciation for his simplicity and reliability. ~ Clarke Fountain, Rovi
Rating:
NR
Genre:
,
Directed By:
Written By:
In Theaters:
Runtime:
Studio:
Shochiku Films of America
Critic Reviews for Ochazuke no aji (Flavor of Green Tea Over Rice)
All Critics (4) | Top Critics (2) | Fresh (4) | Rotten (0)
Yasujiro Ozu's delicate melodramas (this one dates from his finest period, 1951) avoid any sense of cliche in their restrained, sometimes painfully subtle study of family relationships.

Chicago Reader
Top Critic
No one shrug or sigh or smile is more or less dispensible than another gesture, which explains why minor characters are so important in Ozu films.

New York Times
Top Critic

Ozus' World Movie Reviews
Audience Reviews for Ochazuke no aji (Flavor of Green Tea Over Rice)
A cheeky but ultimately moral tale about the blessing of groundedness and 'reliability'. The portraits are winning, and the coming and goings of domestic life in Japan during the 1950s are mesmerising. As a window in to a beautiful culture the film succeeds, even if the storyline is more straightforward.
Thomas Pietsch
Ochazuke no Aji (The Flavor of Green Tea Over Rice) (Yasujiro Ozu, 1952) I'm not sure it's possible to argue that Yasujiro Ozu was not, during his long and prolific career, one of the world's finest filmmakers. (I'm not sure anyone has ever tried. But still.) At least one professional critic ranks an Ozu film, Tokyo Monogatari, as the best movie ever made. The critical consensus as They Shoot Pictures, Don't They? lists ten of Ozu's films in the thousand best ever made as of the 2013 list (The Flavor of Green Tea Over Rice is not one of them. Neither is Record of a Tenement Gentleman, for my money Ozu's finest moment; it sits at #12 on my own thousand-best list as of December 2013, while The Flavor of Green Tea Over Rice languishes, relatively, at #307). To put that into perspective, Scorsese has nine entries on that list, Welles and Truffaut eight, Spielberg and Tarkovsky seven; the only directors represented more often are Bunuel, John Ford, Godard, Bergman, and Fritz Lang. (Akira Kurosawa also has ten on the list.) This guy, he's good. Of course, he also churned out movies like Merzbow churns out CDs, and there are any number of nooks and crannies where a film geek can get lost in the Ozu canon; there may be no one alive who's seen every movie the guy ever made. I got the chance to catch two of Ozu's "minor" films, this and A Hen in the Wind, at the Cleveland Cinematheque, the only two I've had a chance to see on the big screen so far. A Hen in the Wind is good; The Flavor of Green Tea Over Rice is great. There are two parallel storylines going on here. The first concerns an older couple, Mokichi (Late Autumn's Shin Saburi) and Taeko (Lake of Tears' Michyo Kogure). They have reached middle age and, simply, are starting to get on one anothers' nerves. Mokichi, a salaryman with a stable if not massive company, is often sent on long business trips, and years for the simple life of his youth, while Taeko is suffering a midlife crisis and years for action. Along with this is the story of their niece Setsuko (The Seven Samurai's Keiko Tsushima), who is rebelling against the Japanese tradition of arranged marriage through a series of elaborately-staged reasons for begging off arranged dates-until one time where she simply doesn't show up. Now, reading that synopsis, if this were an American film, you would know exactly what to expect, especially given the first extended sequence, where Taeko concocts an elaborate lie (involving Setsuko) in order to go on a spa weekend with some friends; the two women would bond over their shared rebellion blah blah blah. Ozu, who co-wrote, goes you one better: Setsuko runs into Mokichi, the two of them go off and play pachinko together, and they form a bond (as well as Setsuko meeting Michiko's co-worker Noboru (Kôji Tsuruta, of the Red Peony Gambler franchise), who's quite the hunk. I'm not sure I've ever seen an Ozu film that one could describe as a comedy; A Hen in the Wind and Record of a Tenement Gentleman come closest, but there are small touches of humor in every Ozu film, even the saddest. The Flavor of Green Tea Over Rice, on that number line, struck me as being on the more comedic side; there were moments when the audience laughed out loud. Not many, mind you, but there is a lighter feel to this than, say, Tokyo Story or Late Spring. And for the love of geishas, the cinematography in this thing. I just sat there gape-mouthed during a couple of shots in the opening titles (pay attention to where Ozu puts the camera in relation to buildings; this becomes a motif throughout the film, though it is never as up-front as it is during the first few moments, and it's kind of genius). Ozu's films are usually beautiful, even when they're supposed to be grimy (think Floating Weeds here), but a couple of shots here really knocked me for a loop-this is Apichatpong Weerasethakul-level stuff decades before that guy was even born. I opened the review saying it, and I will close the same way: this is a great film, all too rarely screened these days. Definitely go ahead and rent it, but if you get a chance to catch it on the big screen, it's the rare domestic drama that plays out even better when you have a massive screen to take in all the wonderful stuff Ozu is doing with a camera. ****
Robert Beveridge
½
Flavor of Green Tea Over Rice starts with an excellent shot. Riding in the back of a car are two women, one is dressed in modern westernised clothes, while the other is dressed in a kimono. Such a shot perfectly captures many of Ozu's themes. Ozu then strengthens his topics with a simple conversation where Setsuko discusses seeing a French movie. Taeko is a bored housewife that insults her husband on a country getaway with her friends and niece. This really offends her niece Setsuko, and when it comes time for a wedding interview Setsuko is terrified that she will end up like her cruel aunt. Taeko's husband Mokichi is a very simple man with great patience. He tries to go along with his wife, but eventually it all becomes toomuch. She doesn't like the way he eats, the way he travels, or the cigarette brand he smokes. If I have one problem with this movie it's that Taeko is the most unlikable of Ozu's characters I have seen. She is simply cruel to an extent that it goes beyond culture/generational differences. Luckily it all adds together for an incredible ending. In true Ozu style, the married couple struggling to make something as simple as rice ignites their love and they decide to really make a go of things. It's really comforting to see a film that avoids all melodrama and rushes to the airports. It proves that subtlety can be a powerful thing.
Luke Baldock
Super Reviewer
Ochazuke no aji (Flavor of Green Tea Over Rice) Quotes
There are no approved quotes yet for this movie.
Discussion Forum
Discuss Ochazuke no aji (Flavor of Green Tea Over Rice) on our Movie forum!