Flawless
(1999)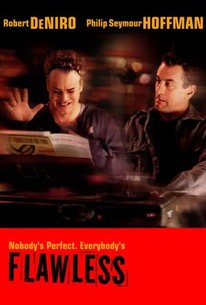 Flawless Videos
Flawless Photos
Movie Info
Can a homophobic former rent-a-cop find happiness learning to sing with a man in a dress? That's the big question in this comedy-drama. A retired security guard (Robert De Niro), deeply conservative and set in his ways, falls victim to a debilitating stroke. His doctors prescribe an extensive program of physical therapy once he's released from the hospital, including singing lessons to help him regain his full powers of speech. As it turns out, there's a vocal instructor living next door to the guard, so he signs up only to discover that his new teacher is a flamboyant drag queen awaiting a sex-change operation (Philip Seymour Hoffman). Written and directed by Joel Schumacher, Flawless also stars Wilson Jermaine Heredia and Daphne Rubin-Vega, both of whom first gained notice in the Broadway musical +Rent, as well as Rory Cochran and Barry Miller.
Rating:
R (for pervasive language and strong violence)
Genre:
,
Directed By:
Written By:
In Theaters:
On DVD:
Runtime:
Studio:
Cast
Critic Reviews for Flawless
Audience Reviews for Flawless
I cannot believe that this film is so underrated... I found the story of Walter Koontz (Robert De Niro) - highly decorated "local hero" police officer - amazing! Well developed and done with warmness - warmness missing from most of the movies today! The real story starts when one night, Walter hears gunshots upstairs, and while ascending to help he suffers a stroke. Awakening with the right side of his body paralysed is something he is not used to, and his poor speech and posture gives a massive blow to his ego... so much that Walter becomes ashamed to be seen in public. Rusty (Philip Seymour Hoffman) is one of Walter's drag queen neighbours and the two are at-odds constantly due to their differing lifestyles. Rusty has a desire to undergo a transsexual operation, but lacks the money to do so. When Walter comes to Rusty to use his musical talents for voice lessons to overcome his impediment, the pair while at first argumentative and uncomfortable with the other begin to become friends. Good acting from two real stars, but nothing spectacular. The screenplay is sometimes very rough around the edges... but it is real as it can be... Joel Schumacher did well in that part, but the directing was too formulaic, and that is the reason for the lower rating! This film could be so much better if he was a little bit braver!
½
Philip Seymour Hoffman's master-class performance as troubled drag queen Rusty sadly goes to waste in this laughable film. "Rusty" stands as the lone well-written character in this pathetic "drama". FLAWLESS's terrible directing, editing and writing, as well as its inappropriate soundtrack (a peppy samba for chase scenes/gunfights, really?) and a forgettable turn by Robert De Niro are no match for Hoffman's insane talent as a character actor.
Fernando Rafael Quintero Castañeda
Super Reviewer
Another great film from Joel Schumacher, with a great performance from De Niro (as always) who very convincingly played a Stroke patient, but even more impressive was the performance given by Philip Seynour Hoffman, who delivered (in my opinion) his best performance to date. I love the way this unlikely friendship develops and is a very enjoyable film.
Lady D'arbanville
Super Reviewer
Discussion Forum
Discuss Flawless on our Movie forum!
News & Features