The Flesh Eaters
(1964)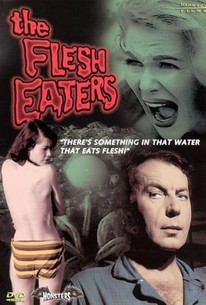 AUDIENCE SCORE
Critic Consensus: No consensus yet.
Movie Info
This thoroughly weird but truly inspired monster flick is one of the earliest gore films to splatter across drive-in screens in the years prior to Herschell Gordon Lewis' notorious Blood Trilogy. The plot finds a besotted movie star (Rita Morley) and her entourage trapped on an island surrounded by aquatic flesh-munching amoebas (represented by scratches on the film emulsion) created by mad scientist Peter Bartell (Martin Kosleck). These sparkly little death-blobs make mincemeat of most of the cast, including a dorky beatnik (Ray Tudor) who ingests a few of the little buggers in his drink -- leading to an agonizingly fatal case of indigestion. Good photography and well-designed makeup effects make the most of a shoestring budget. Film editor Radley Metzger found his own way as the director of numerous soft-porn films in the '60s and '70s.
Rating:
NR
Genre:
,
Directed By:
Written By:
In Theaters:
On DVD:
Runtime:
Studio:
Vulcan
Critic Reviews for The Flesh Eaters
Audience Reviews for The Flesh Eaters
½
"The Flesh Eaters" isn't your typical B-horror movie from the '60's. It's full of forward thinking ideas, and it features a different story than we're used to. It's more science fact than science fiction, and that was kind of refreshing. Believe me, all of the usual elements are here, such as the busty, lusty babes, wooden acting and ridiculous special effects. But I was also able to appreciate the more thoughtful story, and I loved the fact that the film is a lot more gruesome than we're used to from films of this time. There are some real moments of nasty brilliance, most notably in the death of the film's most annoying character, a wayward beatnik out boating on a raft in the middle of the ocean. The big killer here, and really the only reason that I can't recommend the film, is the pacing from director Jack Curtis. The beginning is good, as I was hooked early on, and I loved the hilarious and outlandish ending. The problem is that there's a good fifty minutes in between that feels like two hours, and it's a complete buzz-kill. The movie is about ten minutes longer than most horror films from that decade, and with that much editing, Curtis really could have had something here. The casting is a lot of fun with Martin Kosleck channeling Udo Keir in his role as a demented Nazi, and Barbara Wilkin is a great deal of fun as a boozy, spoiled actress. The campy special effects only add to the fun. "The Flesh Eaters" is a film that I really wanted to like a lot more than I actually did, and that's kind of a shame. It's got a lot going for it, but the middle portion is a wasteland of missed opportunity.
Timothy Sanders
½
Necrotizing fasciitis was never this much fun. Gloriously awful low-budget sci-fi in the tradition of Mansquito and The Killer Shrews.
Randy Tippy
Super Reviewer
A wealthy, bitchy, drunkard of an actress and her assistant hire a plane to fly them to P-town. Flying in a storm, they crash on an isolated Cape Cod island en-route. They are soon discovered by a resident of the island, a German (though specifically, NOT a Nazi for once!) ocean biologist doing research there. The pilot quickly becomes suspicious of the scientist when a flesh-eating bacteria is discovered in the water around the island, but the biologist claims ignorance (despite several bones shown on shore shore of flesh). The next day a beatnik on a raft lands on the island. They all work together to escape. Pretty damn gory for the early 60s and funny at times. The night-time scenes were the brightest I ever seen used - they didnt even try any camera tricks to make it look like darktime! Deleted scenes show this was to originally include nudity and make the scientist into a Nazi.
D M
The Flesh Eaters Quotes
There are no approved quotes yet for this movie.