Flesh for the Beast
(2003)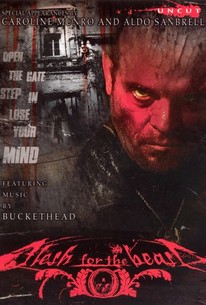 Flesh for the Beast Photos
Movie Info
When a turn-of-the-century occultist conjures a group of horrific demons, there's hell to pay in Lord of the G-Strings director Terry West's erotic horror opus Flesh for the Beast. After Alfred Fischer utilizes the power of a mysterious medallion to summon the demons, the beasts disguise themselves as beautiful women and rely on Fischer to provide them with the human flesh essential to their survival on Earth. Flash forward a century later when a team of parapsychologists find themselves facing a horrific secret while investigating Fischer's manor and former brothel. Will they survive the satanic horrors that await them upon venturing into the damned abode, or will their souls be forever lost to a devilish madman and a horde of bloodthirsty zombies?
Critic Reviews for Flesh for the Beast
Audience Reviews for Flesh for the Beast
½
If you can put up with movies with pocket money budgets, extremely bad acting, unknown actors, ridiculous plots, crappy dialogue, and scenes of complete pointlessness, then you'll probably get through watching "Flesh for the Beast" without suffering too much infront of your TV. It's a film that's basically been aimed at the gore hound out there, and I being one of them will enjoy this film more than most, even if the gore did look pretty damn fake. As for the plot...I won't waste another word on that. It's an absolute sleaze-fest, and all you'll find yourself doing is waiting for the next gory death or sex scene to occur. Though it may be a beyond poor movie, I applaud the Director for putting out a movie which isn't watered down and softened to make it more marketable like Hollywood do. So, entertain it does - you'll either be howling with laughter at how bad it sucks or be revelling in the sight of blood drenched intestines and the sexy nakedness of the seductive ladies.
Flesh for the Beast Quotes
There are no approved quotes yet for this movie.