Flesh Gordon
(1974)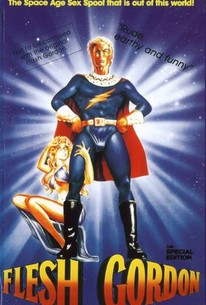 Movie Info
This loony parody faithfully recreates the spirit of the old "Flash Gordon" serials with a fresh new twist--it's a soft-core porn film geared toward audiences with a taste for sophomoric erotic fun. The names tell all. Flash becomes Flesh. Dale Arden is Dale Ardor. Emperor Ming from the Planet Mongo becomes Emperor Wang from Planet Porno. With his bizarre army of creatures, including a penisaurus, a giant monster, a legion of lesbians, and robots with strategically placed protruding drills, Wang endeavors to take over the Earth. Can Flesh, Ardor, and Doctor Flexi Jerkov stop him in time?
Rating:
R
Genre:
, , ,
Directed By:
Written By:
In Theaters:
On DVD:
Runtime:
Critic Reviews for Flesh Gordon
All Critics (6) | Fresh (4) | Rotten (2) | DVD (1)

Dig those phallic spaceships! Early pop porn.

Great cheesy sci-fi, plus gratuitous B-movie nudity. The stop motion baddie at the end rocks!

Audience Reviews for Flesh Gordon
A mix of cheesy 1950's sci-fi film and pornography. Its filled with rapist robots, penis rockets, evil dikes and even a sex ray. Yes, its that bad but so damn entertaining.
Andrew Lawson
If we're talking subversive film-making, this one should be on many people's lists. I would hardly call Flesh Gordon "pornographic" by today's standards. To put it bluntly--it kicks Mel Brooks in the spaceballs. Actually, I've heard of this film appearing on television in Canada (I'll be damned if it ever showed up on American airwaves), and it would blow away anything that HBO has shown recently. This movie is a great spoof of the original Flash Gordon serials, but it stands on its own quite well. There were several names that got their start working on this film, along with some key adult film veterans. It was shot on a makeshift budget, but the special effects crew made great use of the money they had--the stop motion animation could've been seen in a Ray Harryhausen film. In the tradition of the Flash Gordon features of the thirties and forties, Flesh unravels in an exciting episodic format, and puts an adolescent boy's spin on many of the references to its source material. The premise is basic: Flesh Gordon, supreme hockey player and son of the acclaimed Professor Gordon, must save the Earth from Emperor Wang's arousing sex ray. Only with the help of the faithful Dale Ardor, Dr. Flexi Jerkoff, and the assistance of the power pasties can Wang's wanking sexploits be dysfunctional. The plot is generally secondary to the carnal splashes created by the FX crew. A young Jim Danforth helped supply the stop-motion creations seen throughout Flesh's escapades. Some of the terrific creature manifestations include the savage penisauruses and the breathy, unnamed monster that kidnaps Dale Ardor (voiced by an uncredited Craig T. Nelson.) Much of this film would also work well as an animated cartoon a la Heavy Metal magazine. The vast majority of those who have seen or have heard of this film through word-of-mouth, seem to have shafted (no pun intended) it as a low-brow, silly mid-seventies nudie flick. For the prudes and hypocritical clergymen who may have lambasted this terrific dive into what could be called "Crumb-like sexualized science fiction," I seriously feel sorry for you. It's evident that many have chucked away colorful, truthful humor in favor of dry, fish-ingested morality vacuums. On the whole, Flesh Gordon can also be viewed as a legitimate superhero movie: Flesh is bold and brawny, fights evil, and saves the planet in the tradition of Flash Gordon, Buck Rogers, or Superman. The message is simple--have fun and be a human. Don't be afraid to embrace the madness of your imagination, and where you are as an animal. Bare the Flesh and stimulate the senses. Finally--the premiere adult superhero for the teenager in all of us!
Frederick Boone
This spoof/sexploitation movie is a lot of fun, I really enjoyed it. It's crazy and funny. If you like either of those kinds of movies, I recommend checking out this movie.
Flesh Gordon Quotes
There are no approved quotes yet for this movie.
Discussion Forum
Discuss Flesh Gordon on our Movie forum!