Flesh Gordon
(1974)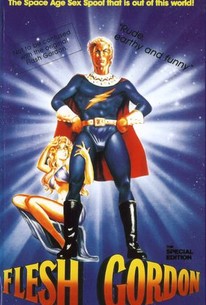 Movie Info
This loony parody faithfully recreates the spirit of the old "Flash Gordon" serials with a fresh new twist--it's a soft-core porn film geared toward audiences with a taste for sophomoric erotic fun. The names tell all. Flash becomes Flesh. Dale Arden is Dale Ardor. Emperor Ming from the Planet Mongo becomes Emperor Wang from Planet Porno. With his bizarre army of creatures, including a penisaurus, a giant monster, a legion of lesbians, and robots with strategically placed protruding drills, Wang endeavors to take over the Earth. Can Flesh, Ardor, and Doctor Flexi Jerkov stop him in time?
Critic Reviews for Flesh Gordon
All Critics (6) | Fresh (4) | Rotten (2) | DVD (1)
pun-tastic!
November 8, 2004 | Rating: 3/5
Dig those phallic spaceships! Early pop porn.
October 15, 2004 | Rating: 2/5
Great cheesy sci-fi, plus gratuitous B-movie nudity. The stop motion baddie at the end rocks!
July 14, 2003 | Rating: 3/5
Audience Reviews for Flesh Gordon
This spoof/sexploitation movie is a lot of fun, I really enjoyed it. It's crazy and funny. If you like either of those kinds of movies, I recommend checking out this movie.
½
The library at my college actually had this video available to borrow in the media department. And it had taped on the box "18 and older." My college roomies and I were laughing the entire time at the utter absurdity and the absolutely horrible acting. Oh and didn't people shave back then??? The power pasties!
Flesh Gordon Quotes
There are no approved quotes yet for this movie.