Flesheater
(1988)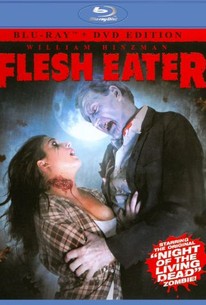 AUDIENCE SCORE
Critic Consensus: No consensus yet.
Movie Info
The original graveyard zombie from director George A. Romero's Night of the Living Dead returns to stalk a group of fun-loving teenagers taking a Halloween hayride. Co-written, directed by, and starring Bill Hinzman.
Critic Reviews for Flesheater
All Critics (1) | Fresh (1) | Rotten (0)
Like a nasty nostalgia trip back in gut munching time, FleshEater is so reminiscent of the period in which it was made that it should come with a Kajagoogoo picture disc import 45
Audience Reviews for Flesheater
This is a early 1988 film put out by H&G Films Ltd, this was there only film, the DVD comes to us from Shriek Show and Rareflix. This is a pretty good zombie flick if you remember what year it came out/ I would put it on my Halloween Video list. S. William Hinzman who played in a lot of zombie films stars as the flesh eater in this one. He was born in Rural Pennsylvania and this movie is filmed there. A group of college age kids, though most seem to be farmers take a hayride in the country to party and maybe camp out, mean while a farmer is pulling up a tree stump when he uncovers the flesh eater, which starts the chain of events that turns everyone into a zombie, A lot of nude scenes in this one with some attractive females. Its enjoyable and worth 3 stars. Some good special effects and some cheesy ones.
Bruce Bruce
Super Reviewer
½
Hilarious and gory film starring the cemetery zombie from NOTLD, Bill Hinzman. This film is nowhere near NOTLD's calibre, but as a goofy, gory and incredibly stupid/entertaining film it works on all counts. The best compliment I can give it is that I fully intended to only watch it for half an hour before bed and wound up watching the whole film in a type of awe. Recommended for those of you with terrible taste, like me.
Christopher Brown
Super Reviewer
AKA Revenge of the Living Dead Bill ("I'm the first ghoul") Hinzman uses up the last of his 15 minutes to further muck up the zombie genre with this late 80's Night of the Living Dead ripoff/remake. Pedestrian.
A.D. Villarreal
Super Reviewer
Flesheater Quotes
There are no approved quotes yet for this movie.