Flight from Ashiya
(1964)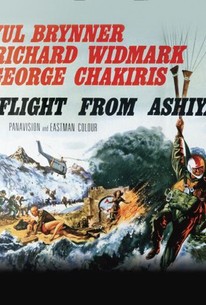 AUDIENCE SCORE
Critic Consensus: No consensus yet.
Movie Info
Elliott Arnold wrote the novel upon which he and Waldo Salt based their screenplay. When an American rescue team is sent near the coast of Japan during a typhoon, three men on the team must contend with their own past experiences. Each man's traumatic event is retold via flashback: Sgt. Mike Takshima (Yul Brynner) is still overcome with grief from the death the woman he loved (Daniele Gaubert), Sgt. John Gregg (George Chakiris) feels guilty for a past rescue mission gone tragically awry, and Col. Glenn Stevenson (Richard Widmark) suffers from the loss of his wife and child who died in a Japanese prison camp. It is Stevenson's problem which is the most significant as he professes hatred against the very people he is assigned to save. Suzy Parker and Shirley Knight are also featured in this adventure-drama from director Michael Anderson. Shot on location in Japan.
Critic Reviews for Flight from Ashiya
There are no critic reviews yet for Flight from Ashiya. Keep checking Rotten Tomatoes for updates!
Audience Reviews for Flight from Ashiya
3 men's lives with tortured pasts come together to save lives at sea. We see their pasts in flashbacks. A real surprise, this film gets better and ends better than it begins. It just doesn't get any better than this with actors like Yul Brynner, Richard Widmark and the lessor known (today)but then celebrity George Chakiris. The camera work and sets are the main faults with this 1964 aviation/romance suspense movie. Tense and at times emotional drama about men against nature, themselves, each other, their past. Flashbacks go into the lives of the three principal actors. We learn of their former lives and gives us great insight as to where they have come from. An unusual way to tell a story, it is rather fascinating. The movie starts with a flashback of an Air Force rescue mission that results in killing the people they aim to save. Actor George Chakiris is haunted by the memory. His superior and now co-pilot Richard Widmark go on a second errand of mercy in the stormy icy seas. George can only sweat and think of the first disastorous mission with Widmark. While terribly TV like made, pretty low budget filming and lousy camera work..... the stars make this one work better than it should ever hoped. Bald headed Brenner looks like a strange guy in Air Force uniform. Richard Widmark plays a very pragmatic, no chance taking officer that is willing to leave people behind to die. Anyone else is more charitable and tortured by memories. A U.S./Japanese co production. Three sea-rescue men (Yul Brynner, George Chakiris, Richard Widmark) must overcome their fears, differences and hatreds as they undertake the dangerous rescue of raft-bound Japanese on storm-tossed seas. This is mostly a Richard Widmark star film (Matt the Hat take notice). As always, he delivers as the true movie legend we should all remember. Yul Breynner gets a chance to act as well, mostly in his flashback love affair. Directed by Michael Anderson Produced by Harold Hecht Written by Elliott Arnold Waldo Salt Starring Yul Brynner Richard Widmark George Chakiris Suzy Parker Shirley Knight Danièle Gaubert Eiko Taki Joseph Di Reda Mitsuhiro Sugiyama E.S. Ince Andrew Hughes Music by Frank Cordell Cinematography Joseph MacDonald, ASC Burnett Guffey, ASC Editing by Gordon Pilkington Studio Daei Harold Hecht Films Distributed by United Artists Release date(s) March 25, 1964 (U.S. release) Running time 100 mins.
monsieur rick
Flight from Ashiya Quotes
There are no approved quotes yet for this movie.
Discussion Forum
Discuss Flight from Ashiya on our Movie forum!