Flight From Death: The Quest For Immortality
(2003)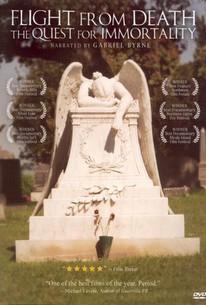 AUDIENCE SCORE
Critic Consensus: No consensus yet.
Movie Info
From the very moment of birth, death is a reality that every living creature will inevitably experience -- but what is death, really? In this documentary narrated by acclaimed actor Gabriel Byrne, the research of late cultural anthropologist Ernest Becker is explored to reveal his theory of death as the primary motivator of human behavior -- especially in regards to aggression and violence. In addition to Becker's fascinating theory, a group of researchers, philosophers, and scholars including Robert J. Lifton, Cheldon Solomon, and Sam Keen all discuss various cultural views on death and the act of dying while simultaneously offering a life-affirming look at the human condition.
Critic Reviews for Flight From Death: The Quest For Immortality
All Critics (2) | Top Critics (1) | Fresh (1) | Rotten (1)
The documentary's rambling good intentions don't meet its goal of presenting an interesting or particularly illuminating view of the universally recognized concept of death anxiety.
It's initially a huge downer, but it becomes more fascinating as it moves along.
Seattle Post-Intelligencer
Audience Reviews for Flight From Death: The Quest For Immortality
The only thing that I didn't like about this documentary is when they talked about the 9/11 terrorist attacks they didn't talk about the "9/11 Twoofers" and their developmentally stunted, fear & hate mongering, tinfoil hat-wearing, Kool-Aid sipping, conspiracy theorizing, delusions & paranoid schizophrenia... Nor did they talk about the hypocrisy expressed by any of these idiots, that they did talk about which was all generalized as well as the one's that they did not talk about. I suppose they didn't want to take a stand against any specific political, religious, cultural, societal, etc., etc., ...philosophies & ideologies, in an attempt make no one, including those from the crackpot idiot fringe sect(s), feel ostracized due to trying to make everyone understand that the issues discussed in this film really do effect us all, and not just indirectly and by proxy but, directly and internally. Me, I'm cynical and politically incorrect. It would have been nice to see them "...spit into the eye of the dragon!" Maybe I'm looking for another documentary in regards to that. I'll keep looking.
Morpheus One
This movie was so good that I went to www.flightfromdeath.com and pre-ordered this movie. No other movie has made me want to buy it, as bad as this documentary.
few forever
½
I thought the topic of this film seemed too depressing. While watching it realized that it's not suppose to depress you it's purpose is to motivate us. I loved it.
the pimp
Flight From Death: The Quest For Immortality Quotes
There are no approved quotes yet for this movie.
Discussion Forum
Discuss Flight From Death: The Quest For Immortality on our Movie forum!