Flight of Fury
(2007)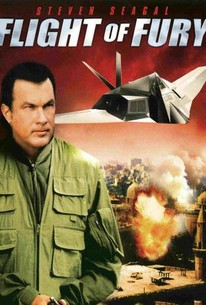 AUDIENCE SCORE
Critic Consensus: No consensus yet.
Movie Info
A United States Air Force special ops agent betrayed by his own agency is forced back into active duty when a top secret stealth bomber is hijacked by a dangerous terrorist group in this action-packed tale of international intrigue starring Steven Seagal. John Sands (Seagal) is the kind of soldier that the military turns to when they need a man who can execute clandestine missions that are too sensitive for standard intelligence services. Now, despite the fact that Sands has continually risked his life in service to his country, the Agency begins to view him as a liability due to his sensitive knowledge he has gained during his many exploits. After being detained by the Agency and scheduled for a chemical procedure in which his entire memory will be erased, Sands escapes the top secret detention center and attempts to reintegrate himself into society. Sands' plan is soon foiled, however, when he defends himself during a liquor store robbery and is subsequently arrested by the local police. As a result of his arrest Sands is quickly located by the Agency, who present him with an opportunity to win his freedom back by locating a highly classified stealth bomber equipped with the latest cloaking technology. It seems that the powerful new weapon has fallen into the hands of violent terrorists who could prove to be a formidable threat to world peace. If Sands can find the jet and bring it safely back to the United States Air Force, the Agency will finally allow him to walk away a free man.
Critic Reviews for Flight of Fury
All Critics (2) | Fresh (0) | Rotten (2)
...a bland, thoroughly needless actioner that's almost entirely lacking in positive attributes...
Are there people out there who are still sticking with Seagal as a major provider of action movie entertainment?
Audience Reviews for Flight of Fury
½
Another situation where somebody powerful (ie the Government) has a major problem and only Steven Seagal, government agent of some underground government agency can save the day. Drawn out, boring and light on the action side of things. Right down there with Half Past Dead in terms of career lows. Seriously, a stolen invisible plane? An extra half star for the lesbo scene, though, even if it didn't go far enough.
Derek Daniels
Super Reviewer
Worstest Steven Seagal's flight action movie I ever saw with terrible gunfights, sometimes martial arts sequences and some editing has replays after I found out the familiar scenes. These scenes didn't excite me much.
Dean McKenna
Super Reviewer
Flight of Fury Quotes
There are no approved quotes yet for this movie.