Flight of the Phoenix
(2004)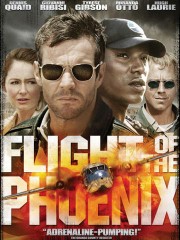 Flight of the Phoenix Trailers & Photos
Movie Info
A group of air crash survivors are stranded in the Mongolian desert with no chance of rescue. Facing a brutal environment, dwindling resources, and an attack by desert smugglers, they realize their only hope is doing the "impossible"--building a new plane from the wreckage.
more
Cast
News & Interviews for Flight of the Phoenix
Critic Reviews for Flight of the Phoenix
Audience Reviews for Flight of the Phoenix
½
Now I have never seen the original film starring legend Jimmy Stewart so I can't compare the two films. But I do plan to see it eventually. This remake like all the others is probably not as great as the original. But that doesn't mean that this film is bad. I was quite entertained by this film, and I very much enjoyed it. I think it's not as bad as everyone makes it out to be. Sure there are things that could've been better, but for the most part; this film manages to be entertaining and thrilling But like everyone else I thought a few things were missing to make this film truly something awesome. I really enjoyed the film I was greatly entertained by it, and I don't understand why people have condemned it so. I mean the film is not that bad. There are far worse films out there than this one. But I agree that at times the film struggles to find it's identity and that some characters are pointless. But really Flight Of The Phoenix is an impressive remake given the chance. If you're in the mood for a mindless, entertaining film, then this one is the one that you should watch. After watching this film, I can only imagine how the original film is, and I will most definitely see it. As far as remakes are concerned, this is a fairly good one and doesn't deserve to be construed as the worst remake ever made. The film has its flaws, but manages to be entertaining.
Flight of the Phoenix Quotes
Capt. Frank Towns: No one else dies!
Elliott: I'm glad you finally see the light, Mr. Towns.
Capt. Frank Towns: Let's get one thing strait: I'm not taking orders from you.
Elliott: Everyone here is dispensable except me.
Capt. Frank Towns: I'd do anything to avoid another 'hopes and dreams' speech.
Discussion Forum
Discuss Flight of the Phoenix on our Movie forum!
News & Features