Flower Drum Song
(1961)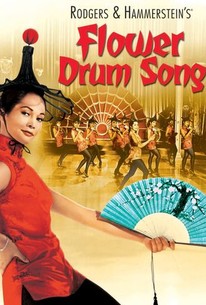 AUDIENCE SCORE
Critic Consensus: No consensus yet.
Movie Info
The only Rodgers and Hammerstein cinemadaptation to be produced by Universal Pictures, Flower Drum Song was, alas, also the only Rogers and Hammerstein film to lose money at the box office. It looks far better now than it did back in 1961, if only because of the paucity of musical films in the 1990s. Essentially a comedy about the culture clash between old-world Chinese and assimilated Chinese-Americans, the film begins when Mei Li (Miyoshi Umeki) and her grandfather (Kam Tong) smuggle themselves into San Francisco. It seems that Mei Li has arrived to honor an arranged marriage between herself and Runyonesque nightclub owner Sammy Fong (the incomparable Jack Soo). This might prove delicate, since Sammy is in love with flashy cabaret entertainer Linda Low (Nancy Kwan). Meanwhile, Linda is romancing Wang Ta (James Shigeta), the son of a wealthy Chinatown merchant (Benson Fong). Soon, however, Mei Li and Wang Ta have fallen in love.......It's a complex plot, to be sure, but comedy and music manage to predominate. The songs include "I Enjoy Being a Girl" (a tour de force for the special effects department, and for Nancy Kwan), "A Hundred Million Miracles," "The Other Generation," "Love Look Away," "I Am Going to Like It Here," "Don't Marry Me," "You Are Beautiful," "Grant Avenue" and "Chop Suey." Flower Drum Song is attractively produced and consummately acted; while no classic along the lines of King and I or Sound of Music, it deserves a second look.
Critic Reviews for Flower Drum Song
Audience Reviews for Flower Drum Song
Plenty of great songs. My favorite is probably "Love Look Away," and it's tough to beat the appeal of a young Nancy Kwan in her absolute prime. Amazing to see Miyoshi Umeki in a romantic lead as well. I will miss her.
Lanning : )
Super Reviewer
One thing I will say about this film is the music was great. Not surprising it's a Rodgers and Hammerstein musical but I didn't particularly like the story. The Flower Drum Song is one of the lesser known musicals from Rodgers and Hammerstein. The only other upside to the movie was James Shigeta, he was yummy to look at. My impression of the movie is that it would've been better to have stayed as a play. www.what-to-watch.com
Laura Rachel
So, I found a Rogers & Hammerstein musical I hadn't seen...now I know why...just an ok musical. The story was good...a Chinese woman and her father come to San Francisco to marry her off, by the traditionally "arranged marriage" way. Mioshi Umeki, who was the first Asian to win an Oscar (for Sayonara) but I remember her mostly as Mrs. Livingston on The Courtship of Eddie's Father series, was so cute and perfect as the little Chinese woman. I love musicals and I thought most of the musical numbers kinda sucked...that's what made this just ok for me...but it did have other aspects that kept my interest.
Robin P.
Flower Drum Song Quotes
There are no approved quotes yet for this movie.
Discussion Forum
Discuss Flower Drum Song on our Movie forum!