Flying Down to Rio
(1933)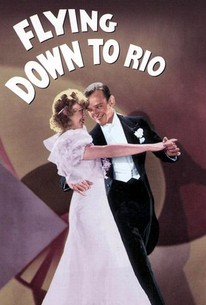 Flying Down to Rio Videos
Flying Down to Rio Photos
Movie Info
The top-billed stars in the extravagant RKO musical Flying Down to Rio are Dolores Del Rio and Gene Raymond. Forget all that: this is the movie that first teamed Fred Astaire and Ginger Rogers. We're supposed to care about the romantic triangle between aviator/bandleader Raymond, Brazilian heiress Del Rio and her wealthy fiance Raul Roulien, but the moment Fred and Ginger dance to a minute's worth of "The Carioca", the film is theirs forever. Other musical highlights include Rogers' opening piece "Music Makes Me" and tenor Roulien's lush rendition of "Orchids in the Moonlight". Then there's the title number. The plot has it that Del Rio' uncle has been prohibited from having a floor show at his lavish hotel because of a Rio city ordinance. Astaire and Raymond save the day by staging the climactic "Flying Down to Rio" number thousands of feet in the air, with hundreds of chorus girls shimmying and swaying while strapped to the wings of a fleet of airplanes. It is one of the most outrageously brilliant numbers in movie musical history, and one that never fails to incite a big round of applause from the audience--even audiences of the 1990s. Together with King Kong, Flying Down to Rio saved the fledgling RKO Radio studios from bankruptcy in 1933. The film was a smash everywhere it played, encouraging the studio to concoct future teamings of those two stalwart supporting players Fred Astaire and Ginger Rogers.
Rating:
NR
Genre:
, ,
Directed By:
Written By:
In Theaters:
On DVD:
Runtime:
Studio:
WARNER BROTHERS PICTURES
Critic Reviews for Flying Down to Rio
Audience Reviews for Flying Down to Rio
I am so glad you came along. Roger Bond is a lady's man that flies planes and performs in a band...making it pretty easy to score chicks. However, in a trip to Rio he falls for Belinha, a socialite and bride to be. Roger is best friends with the groom, but that will change based on his new love. Roger will do his best to win Belinha while she does her best to avoid him. "Every time I think of her I want to bite myself." Thornton Freeland, director of Whopee, They Call it Sin, Dark Sands, The Secret Witness, The Unexpected Father, Over the Moon, and Brass Monkey, delivers Flying Down to Rio. The storyline for this is just okay and a bit predictable. The acting is very good and the cast delivers entertaining performances. The cast includes Gene Raymond, Dolores del Rio, Fred Astaire, Ginger Rogers, and Roy D'Arcy. "Is there any special way you like your coconut juice?" This was recently on Turner Classic Movies (TCM) during a Ginger Rogers/Fred Astaire marathon. I DVR'd this it was their first movie together. I found it above average and entertaining but far from a classic. This contains entertaining characters worth following but is only worth watching once and I wouldn't purchase the DVD. "In me you see a sinner." Grade: C+
Kevin Robbins
½
The first on-screen pairing of Fred Astaire & Ginger Rogers is weighed down a bit by a silly love triangle plot; song highlights include "Orchids in the Moonlight," the giddy "Flying Down to Rio," and the Oscar-nominated "Carioca."
Michael Troudt
½
I was expecting that Fred & Ginger would be the main characters, but no, they take the side-kick roles, and dance around having fun. This movie was a predictable romance, with some funny scenes here and there. I mostly enjoyed the music, the song and dance numbers are especially extravagant. For example, I can't think of another movie where they thought of getting a hundred dancing girls to perform up on top of airplanes. Overall pretty good, but the story could be better.
Flying Down to Rio Quotes
There are no approved quotes yet for this movie.
Discussion Forum
Discuss Flying Down to Rio on our Movie forum!