Following
(1999)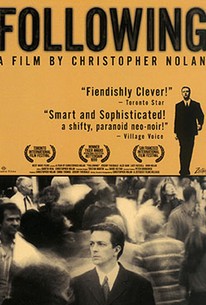 Movie Info
Following is a wickedly clever story of how a young man's obsession with following people leads him into a dark underworld. Bill, the unlikely hero, is a marginalized but intriguing Everyman who follows strangers at random on the street. When Cobb, a man Bill has been following, catches him in the act, Bill is drawn into Cobb's world of breaking into flats and prying into the personal lives of their victims. In Cobb, Bill finds a strange companion, part mentor, part confessor and part evil twin. With an ingenious structure that involves flashforwards and doubling back, the film tests our knowledge and understanding just as the protagonist is being duped into an elaborate triple-cross. This first feature heralds in Christopher Nolan a promising new talent to the indie film scene.
News & Interviews for Following
Critic Reviews for Following
Audience Reviews for Following
½
Christopher Nolan's first feature film, shot only on weekend when he and his crew had free time, is definitely an ambitious one to say the least. This very short 70 minute film follows a writer to follows people in order to get ideas, when one day he stumbles across a man who goes even further and breaks into homes to learn about that person. That portion of the film is brilliant, but once romance plays a significant part in the story, the film becomes much less interesting and pretty unnecessary. I really enjoyed watching this movie though. It's script is well-written, it's story well-crafted, and the performances were very solid. "Following" is definitely a showcase for the talent that Christopher Nolan would grow into and for that I admired it even more. It is not a great film and it is very simple, but overall it is really enjoyable.
[img]http://images.rottentomatoes.com/images/user/icons/icon14.gif[/img]
Directors Cat
Super Reviewer
Shot on weekends in 16mm black and white with available, often natural, light and on a budget of $6,000, this is the riveting feature film debut of one Christopher Nolan, who acted as writer, director, cinematographer, editor, and producer. Presented in non-chronological order, this British neo-noir suspense thriller film is about a young wannabe writer with writer's block who tries to get inspiration from following various people around. It starts off fine enough, but soon leads him down a dark path of crime, deception, and betrayal. There's some twists here, and the themes are things that have stuck with Nolan ever since, so this is undeniably a key entry in his filmography. It's made cheaply, and is rough around the edges, but I really appreciated the raw and gritty approach. Often overlooked, or perhaps just overshadowed by the similar, more polished Memento, this is an essential work that needs to receive more attention. It's filled with tension, suspense, and all kinds of twists and turns, and takes great influence from film noir and the French New Wave. In fact, had the violence and profanity been toned down, then this could almost pass as an entry into either of those genres. Definitely give this a look. It's not perfect, but it definitely delivers the goods where it counts.
Chris Weber
Super Reviewer
Following Quotes
| | |
| --- | --- |
| Cobb: | You can tell a lot about people from their stuff. |
| | |
| --- | --- |
| The Young Man: | Why would you take their old CD's? |
| Cobb: | Easy to grab a load, easy to sell, totally untraceable. A good staple. The other stuff's a lot more tricky, far more unpredictable. |
| | |
| --- | --- |
| The Blonde: | Nobody in their right mind would steal from him. |
| | |
| --- | --- |
| The Policeman: | Why did you do it? |
| The Young Man: | How can I explain? Your eyes pass over the crowd, and if you let them settle on a person, then that person becomes an individual. Just...like...that [snaps fingers]. |
| The Young Man: | How can I explain? Your eyes pass over the crowd, and if you let them settle on a person, then that person becomes an individual. |