For a Few Dollars More (Per Qualche Dollaro in Più)
(1965)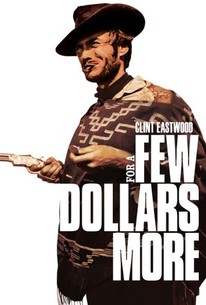 TOMATOMETER
AUDIENCE SCORE
Critic Consensus: With Clint Eastwood in the lead, Ennio Morricone on the score, and Sergio Leone's stylish direction, For a Few Dollars More earns its recognition as a genre classic.
For a Few Dollars More (Per Qualche Dollaro in Più) Photos
Movie Info
This pulse-pounding follow-up to Sergio Leone's A Fistful of Dollars brings back Clint Eastwood as the serape-clad, cigar-chewing "Man With No Name." Engaged in an ongoing battle with bounty hunter Col. Douglas Mortimer (Lee Van Cleef), the Man joins forces with his enemy to capture homicidal bandit Indio (Gian Maria Volontè). Both the Eastwood and Van Cleef characters are given understandable motivations for their bloodletting tendencies, something that was lacking in A Fistful of Dollars. In both films, however, the violence is raw and uninhibited -- and in many ways, curiously poetic. Leone's tense, tight close-ups, pregnant pauses, and significant silences have since been absorbed into the standard spaghetti Western lexicon; likewise, Ennio Morricone's haunting musical score has been endlessly imitated and parodied. For a Few Dollars More was originally titled Per Qualche Dollaro in Più; it would be followed by the last and best of the Man with No Name trilogy, The Good, the Bad and the Ugly. ~ Hal Erickson, Rovi
News & Interviews for For a Few Dollars More (Per Qualche Dollaro in Più)
Critic Reviews for For a Few Dollars More (Per Qualche Dollaro in Più)
Audience Reviews for For a Few Dollars More (Per Qualche Dollaro in Più)
½
This second film of Leone's Dollar Trilogy is a significant step up compared to the previous one, as he starts to polish his stylish direction and is helped by a great cast to create some of the most unforgettable scenes in the Spaghetti Western subgenre.
Carlos Magalhães
Super Reviewer
½
[img]http://images.rottentomatoes.com/images/user/icons/icon14.gif[/img]
Directors Cat
Super Reviewer
"The man with no name" returns in this sequel to A Fistful of dollars in which he forms an uneasy alliance with another bounty hunter to kill the head of an outlaw gang while they hatch a scheme to rob the most heavily guarded bank in the territory. For A Few Dollars More is not considered the best of the series by many, but I personally prefer it to the (damn good) original at least. It feels far more like a true Leone film, is better paced and boasts not one but three commanding presences in the form of Clint, Lee Van Cleef's steely eyed and clinical assassin, and Gian Maria Volonte's sinister bandit. The interplay between the three is fantastic and there are many classic Leone moments including his trademark framing of weathered, characterful faces against epic landscapes. There is more depth to the story as the heist and undercover elements involve layers of deceit and betrayal leading to an extremely atmospheric finale. Add to that Ennio Morricone's score which is once again wonderfully memorable and you have all the ingredients for an all time classic western.
For a Few Dollars More (Per Qualche Dollaro in Più) Quotes
| | |
| --- | --- |
| The Man With No Name: | I think you people need a new sheriff. |
| | |
| --- | --- |
| El Indio: | When the chimes end, pick up your gun. Go ahead and shoot me Colonel. Just try. |
| | |
| --- | --- |
| Col. Douglas Mortimer: | This Train Will Stop At Tucumcari! |
| Col. Douglas Mortimer: | This train will stop in Tucumcari. |
| | |
| --- | --- |
| The Man With No Name: | [counting reward sums of outlaws he just killed] Ten thousand... twelve thousand... fifteen... sixteen... seventeen... twenty-two. Twenty-two? [a cowboy comes from behind, Monco turns and shoots him dead] ...Twenty-seven. |
| Col. Douglas Mortimer: | Any trouble, boy? |
| The Man With No Name: | No, old man. Thought I was having trouble with my adding. It's all right now. |