For Ever Mozart
(1997)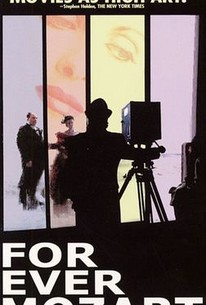 Movie Info
Ironic, humorless and obscurely plotted, this highly symbolic effort is somewhat loosely divided into four sections. The rather free-form narrative begins as a noted philosophy professor, her husband, and their maid prepare to board a Bosnia-bound train. After disembarking in the war-torn country, the travelers are captured by Serbians.
Critic Reviews for For Ever Mozart
Audience Reviews for For Ever Mozart
½
In the confusingly fractured narrative, actors plan to stage a play in Sarajevo and a director tries to finish filming a movie, but as Jean Luc-Godard confesses it's all really just "signs bathing in the light of absent explanation." Everyone talks like a philosophy professor; it's brainy, but mostly a bore.
For Ever Mozart 1-20-07 (or so) the trouble with godard, for me, is that he packs so much into his movies. i'm speaking specifically about his later period films. i watch them like i'd read james joyce, if i were to read james joyce. as an educated movie watcher, with a BFA in film production, i know to watch his movies. but there's so much to it! i usually get caught up in the philosophical dialog, or the amazing camera shots, that i miss the story. i watch more for his technique. i watch because i love his movies from the 60s. he just packs so much into it, and i spend the whole time reading the subtitles and glancing at the camera shots, and not enough time processing, until the movie is over. i know i'm missing a lot. i know i need to watch these movies multiple times before fully grasping them. it's just difficult.
Brandon Horning
For Ever Mozart Quotes
There are no approved quotes yet for this movie.
Discussion Forum
Discuss For Ever Mozart on our Movie forum!