For Love or Country
(2000)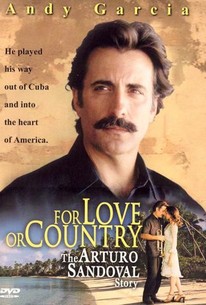 AUDIENCE SCORE
Critic Consensus: No consensus yet.
For Love or Country Videos
For Love or Country Photos
Movie Info
World-class trumpeter Arturo Sandoval was a shining light in Cuba's exciting jazz scene and championed by jazz legend Dizzy Gillespie as one of the greatest musicians he'd ever heard. But as Sandoval's fame grew, so did his discomfort with Fidel Castro and Cuba's Communist leadership. Though Sandoval longed to leave Cuba and emigrate to the United States, where he could enjoy political freedom and make the most of his gifts as a musician, one thing held him back -- his love for his wife and children, whom he could not bear to leave behind. For Love or Country: The Arturo Sandoval Story is a made-for-cable drama based on the true story of Sandoval's career, his eventual flight to the United States with his family, and the unexpected roadblocks that nearly prevented him from becoming a naturalized American citizen. Andy Garcia stars as Arturo Sandoval, with Mia Maestro co-starring as his wife Marianela; Gloria Estefan, Tomas Milan, and Miriam Colon highlight the supporting cast. The biographical drama was produced for the HBO premium cable network and first aired on October 18, 2000.
Rating:
PG-13 (adult situations)
Genre:
, ,
Directed By:
Written By:
On DVD:
Runtime:
Studio:
HBO Video
Audience Reviews for For Love or Country
½
:fresh: Movies about the story of someone else's life is not my favorite genre to watch but I was certainly impressed with this story. Andy yes I am a fan of Andy Garcia's work but I am not just saying nice things about this movie for the sake of saying nice things. This movie was filled with music and drama about the struggle a man and his family went through to have a better life that included the freedom to make their own choices. Some great acting was included with some very lively music along with some great directing. For Love or Country will spice up your night.
elena e.
[COLOR=White] Man, HBO Films and Tv series rock. I caught "For Love or Country:The Arturo Sandaval Story" tonight (on DVD but it's an HBO release) and what an awesome movie that was. It actually made me feel almost proud to be American, without the cheese of waving flags, Coca-Cola, or saluting GI's. That's a pretty amazing feat in itself, but what's even more amazing is the amount of heart that went into the movie. The performances were so natural and believable, and I thought the script was great too. Because usually a movie based on a true story about a somewhat tragic event is SO full of ham and funk that it almost makes you feel guilty watching it, but that wasn't the case here. So this is even more proof for my stance that small movies take a meticulously coordinated shit all over big budget blockbuster fiascos. Speaking of big fiascos, why on earth would anyone remake The Texas Chainsaw Massacre? It's not like it's an obscure movie that people have never heard of, and I still don' se that as a good reason for a remake either. What are they hoping to accomplish? Well, dollars of course, but damn that's sad. Well, on the plus side I saw Jessica Biel in an interview about it and cheebus she looked good. Best celebrity bod in year and years I tell you, nice and athletic. :o Yes, I know a statement like that is no good without pics, I can't find any non-risque images to illustrate my point, so: [/color] [img]http://invis.free.anonymizer.com/http://us.ent4.yimg.com/movies.yahoo.com/images/hv/photo/movie_pix/warner_brothers/summer_catch/jessica_biel/catchpre4.jpg[/img]
Kai W
For Love or Country Quotes
There are no approved quotes yet for this movie.