For the Bible Tells Me So
(2007)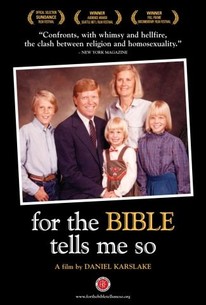 For the Bible Tells Me So Photos
Movie Info
Grounded by the stories of five conservative Christian families, the film explores how the religious right has used its interpretation of the Bible to support its agenda of stigmatizing the gay community and eroding the separation between church and state.
News & Interviews for For the Bible Tells Me So
Critic Reviews for For the Bible Tells Me So
Audience Reviews for For the Bible Tells Me So
½
I really like that the movie shows the parent's religious struggles or acceptance more so than the child's point of view. This movie is all Fox News is not - it is fair and balanced. It helps me have tools for explaining myself as a gay man that has lost faith because of the church's reaction. But the sad thing is.... the people that need to see this movie most... will not!
Thomas Johnston
Super Reviewer
My first reaction was to write this off as preaching to the choir, but there are a lot of really admirable things about this documentary that I think could do a lot of good. Sure, you're not likely to get 90% of Christians to sit down and watch this, but the ones this movie is capable of reaching could certainly benefit from it. It takes a fair, gentle hand to religion, not vilifying it but instead reaching a compromise with it; the sense of balance makes the movie almost universally watchable. The message it sends across is "we respect your beliefs, and now we ask us to respect yours," something that would do us a great deal of good. Poignant, informative and optimistic, For the Bible Tells Me So is a great watch for just about anybody.
Drew Smith
Super Reviewer
½
Documentaries about controversial subjects really have to be brave in order to be effective. The nature of this documentary, homosexuality and the bible, is about as controversial as you can get, but I'm not sure it pushes things as far as it could've. It does, however, cover a wide area with both interviews and film clips. 3/4ths of the movie is dedicated to personal anecdote, from Gene Robinson who becomes a bishop in the Episcopal church to Dick Gephardt, whose daughter is a lesbian, as well as other figures who are less well-known, but all share the same spirit of activism in their cause. The movie also takes the time to (pretty effectively) dissect each of the Bible quotes most often used when condemning homosexuality. For instance, the same bible passage that calls homosexuality an "abomination" also calls eating shrimp an "abomination" (and yet, when is the last time anyone saw any christian groups protesting outside a Red Lobster?). It does tend to paint the anti-homosexual movement as simply ignorance and outright bigotry, but at the same time, this movie is preaching to the converted (and I do mean "preaching" because at times it is very preachy). I don't get the sense this movie will change many minds, and it lacks the emotional power necessary to rally anyone not already militant. I would've preferred less personal anecdotes and more refutation of the bible passages through the use of other bible passages (as the title of the movie suggested). Still, there's no harm in watching it, if only for the bit about "Sodom and Gorrah" alone.
Devon Bott
Super Reviewer
For the Bible Tells Me So Quotes
There are no approved quotes yet for this movie.