Forever Lulu
(1987)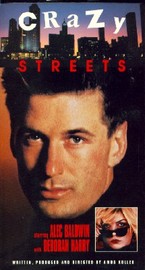 AUDIENCE SCORE
Critic Consensus: No consensus yet.
Tickets & Showtimes
Movie Info
In this comedy, a young German woman named Elaine Hines (Hanna Schygulla) moves to New York City with dreams of becoming a writer. Elaine becomes entangled in a mystery and falls in with a group of gangsters who lead her through a series of crazy adventures. Released on video under the title Crazy Streets, this movie featured an appearance by Deborah Harry and was Alec Baldwin's first screen appearance.
more
Cast
News & Interviews for Forever Lulu
Critic Reviews for Forever Lulu
There are no critic reviews yet for Forever Lulu. Keep checking Rotten Tomatoes for updates!
Audience Reviews for Forever Lulu
John Edwards
Forever, Lulu is a film that portrays an immigrant woman down on her luck in the big city trying to publish her novel that her publisher says no one will be interested in. Hard for cash she relies on good friends to get her through some rough times. When a chance incident puts her life in overhaul to stardom and riches, she loses sight of who she is. In the midst of the crime she witnessed, trying to maintain her image and avoid the criminals after her and a young suitor, she gets tangled up in an inner emotional war.
The direction of this film was terrible. Amos Kollek (Goodbye, New York) was not able to get the best portrait to the viewer through the vision he had captured. The direction he wanted to take the film was clear but his inability to get it there shows poor directional skills. It might not be his fault entirely as he did not have the best crew at his disposal but directing takes the skill of getting the actors to use their strengths to the films advantage which he was unable to achieve. This lack of professional ability really took its toll on the film and it reflected poorly upon the work he completed.
The script, which was also written by Kollek, did not fair well either. It represented a film without depth or connection with a character that is lost, but unfortunately so is the viewer. The pity felt by the audience is not just for the poor character on screen, but for the film in general. While it tries to make her a sweet, innocent woman being tormented in the midst of fame and riches, it entangles her into too much at once, bringing the subjects in too quickly and ending them just as fast. Of course this doesn't apply to the main topics and themes within the script. It attempts to do so much with so little that there is really nothing there at all.
The acting in this film was the true low point. German actress Hanna Schygulla (The Delta Force) was given a role that she could have made or broke. She shattered it. She showed no real emotion other than a whiny, needy human being who was did nothing but annoy the audience who was supposed to feel some sort of pity for her. She was so entangled up in different areas that required different emotions for the viewer to feel and see but received the same one all the way across the board. The entrance of Deborah Harry (Rock & Rule) into the picture seems pointless. She did nothing but wander and stare into space as if stoned out of her mind. Apart from this her impact to the story was almost minimal at best. She had very few lines and when she did it was as if they were being read because the weed had hindered her from remembering a single one. Schygulla's closet friend Annie Golden (Hair) was the most enthusiastic character in the film and used her strengths to her advantage to play the caring betrayed friend. She did however over do the emotion on more than one occasion, but were usually in times of high stress. Unfortunately it went with the exact opposite of the main character which made it much more noticeable. Alec Baldwin (feature film debut) was decent for the love interest and police officer lusting after Elaine (Schygulla's character). He showed too much emotion at times to make it believable but for the time was not as bad as it would be in today's high octane acting ability.
This film was very weak in every aspect. The acting is what truly sank it to the bottom, though the script and direction did not help it at all. Though not completely worthless as the attempted message was decent enough, it was left in the hands of the wrong people. Forever, Lulu is immediately forgettable.
John Edwards
Discussion Forum
Discuss Forever Lulu on our Movie forum!
News & Features