The Forgotten
(2004)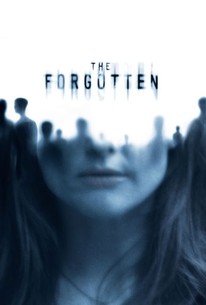 Movie Info
Telly Paretta is tormented by the memory of her eight-year-old son Sam's death in a plane crash 14 months ago. While trying to work through her grief, and her subsequent estrangement from her husband Jim, she is informed by her psychiatrist, Dr. Munce, that she is suffering from delusions, that her son never existed and she is fabricating his memories. Stunned, she tries to find evidence of Sam's existence. But it has all disappeared. Telly is convinced she is going mad until she meets Ash Correll, the father of one of the other plane crash victims. Together, they embark on a search to prove the existence of their children and reclaim their sanity.
People Who Like this movie also like
News & Interviews for The Forgotten
Critic Reviews for The Forgotten
Audience Reviews for The Forgotten
½
Julianne Moore is a mother who misses her dead son, which is normal ... until everyone she knows starts to tell her that she never had one. As the story shifts from psychological thriller into the unknown, the fantastic, well, it loses its way, but the actors are still good.
Kevin M. Williams
Super Reviewer
½
I loved the first half...the pacing especially. The film follows a women who is grieving over the loss of her son, and then during that process, she's informed that her son didn't exist. The plot progressed nicely and was aided by the solid performances by Julianne Moore and Dominic West. Then there was sudden shift about 3/4's of the way through the film where it just all went down hill. The plot got really confusing, and then the ending was like...wtf. Overall, a decent and entertaining film, but I was slightly disappointed because I thought it had potential.
Jameson Worley
Super Reviewer
Boy, this is an odd one. A psychological mystery thriller, this film is about a woman still grieving after the death of her son 14 months later, only for everyone around her to tell her that she never had a son and that she is delusional. Refusing to believe this, she sets out on a quest to prove she's not crazy, and to figure out why there seems to be a conspiracy out there telling her things she refuses to believe are true. This film is a real head trip, and it has a very Twilight Zone or X Files vibe to it. This film has some neat ideas going on, but ultimately it feels really half-assed, and the way it is handled just makes it all seem more ridiculous than thought-provoking. On the plus side, it does have a great sense of mood, tone, and atmosphere, and the film is never boring. Plus, the film has a good cast, and their acting is good, so that helps. But still, the material needs some work, and it's unfortunate that this film comes off as more weird (in a bad way) and silly. See it if you want, if only for the way it is constructed and the performances, but don't expect the end result to be as brilliant or mind blowing as it could have been.
Chris Weber
Super Reviewer
The Forgotten Quotes
There are no approved quotes yet for this movie.