Forgotten Silver
(1997)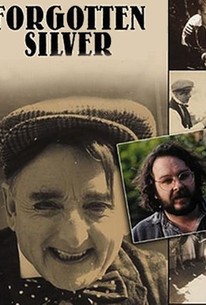 AUDIENCE SCORE
Critic Consensus: This mockumentary about a non-existent New Zealand film pioneer and inventor features fake interviews and recreated archive footage that are so effective that many viewers were stunned to learn it wasn't real.
Movie Info
This elaborate New Zealand farce is a chronicle of forgotten international cinema pioneer Colin McKenzie, a New Zealand native born in 1888. The filmmakers spice up the documentary with interviews with such film celebrities as Leonard Maltin, Harvey Weinstein, and Sam Neill. They also include footage from McKenzie's surviving films.
News & Interviews for Forgotten Silver
Critic Reviews for Forgotten Silver
Audience Reviews for Forgotten Silver
Cleverly written and executed, but I was surprised at how unfunny it was. Not in the sense of *failed* humor, but of humor not being attempted at all. The funniest thing about the film is its overall premise -- chuckles during individual scenes were scarce for me. The steam-driven camera, the egg heist, the all-Chinese talkie, a character named Alexandra Nevsky, Harvey Weinstein's casual shrug at the end about cutting an hour from the fictional movie.... Not much else. The difference between "Forgotten Silver" and "This Is Spinal Tap" is that the latter would be just as funny, even if were true. I can't say the same for "Forgotten Silver." It's certainly worth seeing, however. Note: The film is about 52 minutes, not an *hour* and 52 minutes. The length stated above is wrong.
Eric Broome
Super Reviewer
Tim Salmons
Super Reviewer
A rather funny mockumentary about Colin McKenzie, a man who (apparently) rivalled DW Griffiths, the Lumiere brothers, Edison, and George Melies in the early days of film. he supposedly invented the bicycle cam (and subsequently crashed it), made film emulsion from eggs (though it took a dozen to make one minute worth of film), and captured the first flight on celluloid nine months before the Wright Bros. ever flew! Of course, none of this really happened, but apparently some viewers thought that it did, and it got Jackson in a bit of hot water with the New Zealand Film Commission. This film's worth a look.
Forgotten Silver Quotes
There are no approved quotes yet for this movie.