Forks Over Knives
(2011)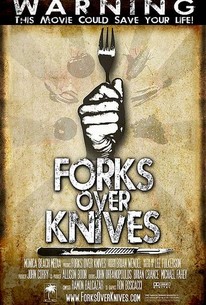 Movie Info
Documentary filmmaker Lee Fulkerson explores the possibility that so-called "diseases of affluence," such as heart disease, can be reversed by simply adjusting our diets to include less processed and animal-based foods. Back in the 1960s, Cornell University nutritional scientist Dr. T. Colin Campbell was working to find a way to feed the citizens of impoverished Third World nations when a trip to the Philippines forever changed the way he thought about food consumption. There, he discovered that the rates of liver cancer among affluent children who subsisted on diets rich in animal-based foods were notably higher than in children consuming plant-based diets. Meanwhile, surgeon Dr. Caldwell Esselstyn, head of the Breast Cancer Task Force at Cleveland Clinic, was also discovering that many of the diseases he was seeing in patients were practically nonexistent in areas of the world where people were primarily consuming plant foods. Several subsequent investigations by the researchers (who would not meet each other until the 1980s), including a groundbreaking study in China by Dr. Campbell, led them to the revelation that a whole-food, plant-based diet could prevent, and even reverse, such degenerative conditions as type 2 diabetes, heart disease, and some forms of cancer. In this film, Fulkerson examines Dr. Campbell's and Dr. Esselstyn's theories by following the two doctors' individual, yet very similar, story arcs, from their farm-based upbringings to their astounding discoveries. The film also records the experiences of a group of patients suffering from chronic maladies as they participate in an experiment in which their diets are substantially altered and wholesome, plant-based food is, essentially, used as medicine. ~ Jason Buchanan, Rovi
Rating:
PG (for some thematic elements and incidental smoking)
Genre:
, ,
Directed By:
Written By:
In Theaters:
On DVD:
Box Office:
$1,000,000.00
Runtime:
Studio:
Critic Reviews for Forks Over Knives
Audience Reviews for Forks Over Knives
½
Forks Over Knives is a very eye-opening, well-researched documentary. It is very matter-of-fact and even a little insulting at times, however; Food,Inc. is a little more subtle than this one.
Matthew Henegan
½
The info is sound, but Jesus Christ, this movie is boring. The narrator's voice is also kind of grating. I will never believe that vegetarianism is the answer for everyone, but Paleo, Mediterranean, veganism, Keto, and other diets based in whole foods are key to us getting healthier as a nation. Every road is different for everyone, but over processed foods just aren't good for you when it is the core of your nutrition.
Zandra Ellis
½
This documentary can be a life-saver for so many of us. Let's face it most of follow a slow-but-sure suicide regimen of processed foods with lots of meat and dairy thrown in (oh don't forget the sugar!) Though dry at times with lots of statistics, Forks Over Knives is a must see. It truly is a revelation. One stat that reverberates...US health care costs could be reduced up to 80% if we changes to a whole food/plant base diet...did you hear that Congress! (5-16-11)
Forks Over Knives Quotes
There are no approved quotes yet for this movie.