Fort Massacre
(1958)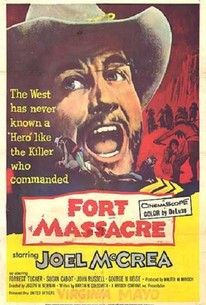 AUDIENCE SCORE
Critic Consensus: No consensus yet.
Movie Info
In this western, an embittered cavalry sergeant must take over his regiment after their commanding officer is killed during an ambush. To save them, he leads the troop through Apache territory because it is the quickest way to reach the fort. The members of the regiment do not trust their new leader's reasoning. They suspect he is taking them through the restricted territory so that he can get revenge upon the Apaches who killed his wife and kids several years ago. The troop find themselves suffering a series of increasingly deadly attacks. Many die, until the soldiers, believing that the sergeant has lost his mind, rebel and kill him.
Audience Reviews for Fort Massacre
The dead don't bother me. A cavalry on a mission knows they will be attacked by Indians. They have an option to cut through a pass that may be safer, but their leader refuses and drives them to a fort to hold up and fight their way to safety. The captain will face long odds, both from the Native Americans as well as reluctant soldiers. "I realize now that, that is the only way it could have ended." Joseph Newman, director of The Big Circus, Love Nest, Dangerous Crossing, The Island Earth, The Gunfight at Dodge City, and The Lawbreakers, delivers Fort Massacre. The storyline for this picture has intense moments and good character interactions. This is also a western with a gritty feel, almost war genre like atmosphere. The acting is very good and the cast includes Joel McCrea, Forrest Tucker, John Russell, Anthony Caruso, and Denver Pyle. "Who wants to die for a bunch of dirt farmers?" This was recommended to me by Fios so I DVR'd it off Turner Classic Movies (TCM) last summer. This was fun and I did like the way it was shot and the way the scenes were presented. The plot itself was straightforward and unimaginative, but the character interactions were worthwhile. I recommend seeing this once, especially to western genre fans. "The closer they come the harder it is to miss." Grade: C+
Kevin Robbins
131213: Good movie. Tough story. Interesting title considering it never takes place in a fort. If you listen closely, you'll hear the title used at least once in the dialogue.
John Redshaw
Fort Massacre Quotes
There are no approved quotes yet for this movie.
Discussion Forum
Discuss Fort Massacre on our Movie forum!