Four for Texas
(1963)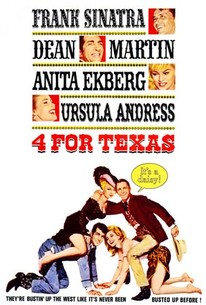 Movie Info
Dean Martin and Frank Sinatra star as friendly enemies who both want to control gambling in 1870 Galveston, but first must contend with a crooked banker and cold-blooded hired gun.
Critic Reviews for Four for Texas
All Critics (9) | Fresh (1) | Rotten (8) | DVD (1)
Aldrich's trademark violence bursts through only sporadically; otherwise the film comes across as a lazy, party-time effort for the stars.

A stupid and overlong Rat Pack sex comedy Western that bites the dust with hardly any intentional laughs.

Ozus' World Movie Reviews
Audience Reviews for Four for Texas
I'm dealing with two mental midgets here A stage coach robbery attempt leads to $100,000 being obtained by the stage coach riders rather than the robbers. The robbers and riders will fight over the opportunity to walk away from the situation with a load of cash. However, the coach riders may need to work together to overcome the onslaught efforts of the robbers. "You heard what the Indian said when they asked him why he rode the horse while the squaw walked?" "Nope." "She ain't got no horse." Robert Aldrich, director of Dirty Dozen, The Frisco Kid, The Angry Hills, Ten Seconds to Hell, and Apache, delivers Four for Texas. The storyline for this picture is interesting and contains a solid blend of action, character development, and comedy. The script is well written and each character is well presented. The cast is impressive and delivers solid performances. The cast contains the Three Stooges, Dean Martin, Frank Sinatra, Anita Ekberg, Charles Bronson, Ursula Andress, and Jack Elam. "I sometimes don't think I have the intestinal fortitude required for this job." "I think the word you mean is guts. You don't have the guts for this job." I have recently been DVR'ing Charles Bronson pictures. This movie jumped off the page for me when I discovered it starred Bronson and an amazing "A-list" cast. While this isn't the greatest western you will ever see, it is an entertaining film with a clever script and solid comedic sequences. I do recommend giving this picture is a viewing if you are a fan of westerns. "Sometimes bleeding is required." Grade: C+
Kevin Robbins
No singing, no dancing, just Frank and Dean in the old west drinking whiskey and banging beautiful ladies. The great surprise of this western was that Charles Bronson was the villian. Of course though even at his toughest he is no match for Frank and Dean.
Keith Munley
Super Reviewer
[color=blue][u]House on 92nd Street[/u][/color] [img]http://cdn-9.nflximg.com/us/boxshots/large/60011189.jpg[/img] [color=black]Part of the Fox film noir collection but for the life of me I cannot figure out the reason. Not a noir film at all but a documentary and not a good one at that. The perspective kept changing so you didn't really identify with any of the characters on an emotional level. Only a couple of semi-name actors were used , a majority of the cast were actual FBI agents, which may have served the cause of realism or sold a few extra tickets to family members ("oh look , Harry, its Uncle George the FBI agent... geez) but further distanced you from the film. The story portends to get you inside the attempt to break up German spy rings that were after the secret to "Process 97" (the A-Bomb).. Uninvolving, supposedly J. Edgar Hoover gave permission for a lot that was shown and wanted realism... I call it dull, dont bother.[/color] [color=blue][u]4 For Texas[/u][/color] [img]http://cdn-7.nflximg.com/us/boxshots/large/60021587.jpg[/img] [color=black]Rat pack lite.. In more ways than one. Sinatra and Martin banter and carouse in 1870's Texas. Anita Ekberg and Ursula Andress are their girls and Charles Bronson, Victor Buono and The Three Stooges (1 scene) complete a plethora of well known names. Director Robert Aldrich ([color=blue][u]Longest Yard[/u][/color], [color=blue][u]Kiss Me Deadly[/u][/color] , [color=blue][u]Whatever Happened to Baby Jane[/u][/color]) is at the helm and with all this i would have expected more. The "plot" involves $100,000 and the running of a riverboat casino but is just window dressing for the boys antics. It is like an Oceans 11 type movie where the plot is not the thing, but Sinatra and Martin are more at home in Vegas than the Wild West. An opening pre title sequence is a highlight for this reviewer and the Three Stooges with Dino brought a chuckle. Ursula Andress (or Undress, as Sinatra would say) is absolutely stunning. Better movies of this type have been done, bought it on a lark and slightly disappointed. In my opinion, its not a purchase or a rental , but Ok to catch on TV maybe late at night or on a rainy afternoon for a few chuckles.[/color] [color=blue][u]Black Angel[/u][/color] [img]http://cdn-1.nflximg.com/us/boxshots/large/70000541.jpg[/img] Finally !!! A new (to me) noir that I really liked. The plot, even though it does tread on well-worn noir ground (unjustly accused of murder) is interesting. The twist is that it is the wife out there taking chances trying to prevent her husbands execution even though he is a cheat. I had not heard of June Vincent , who plays the female lead before, but she did a credible job. The photography is above average for a noir and adds to the mood. The absence of character development of the husband I felt helps you sympathize with the wife and helps set you up for the twist at the end. Peter Lorre is an actor you can't go wrong with and Dan Duryea is in my opinion a solid versatile underrated actor. I've seen him in noir films,western and other types and he always acquited himself fine. Broderick Crawford (All the Kings Men) adds to the cache of the cast. I hadn't realized this was based on a Cornell Woolrich work but that makes sense as adaptations of his work produced many fine noir films. Give this one a value recommendation, part of the universal noir collection and can usually be found cheap [color=blue][u]Going My Way[/u][/color] [img]http://i183.photobucket.com/albums/x30/udproud/200px-GoingmywayBing.jpg[/img] This film hit screens during the height of WW2 and scored big at the Oscars with 7 Wins including Best Actor (Crosby), Best Supporting Actor (Fitzgerald), Best Director (McCarey) and Best Picture. It did all this in a year where other pictures produced included [color=blue][u]Gaslight[/u][/color], [color=blue][u]Mr. Skeffington[/u][/color], [color=blue][u]Lifeboat[/u][/color], [color=blue][u]Laura[/u][/color] and [color=blue][u]Double Indemnity.[/u][/color] [color=black]Sugary sweet, wholesome all American fare starring Crosby as Father Chuck O'Malley who is sent by the Bishop to help a poor rundown city church run by Father Fitzgibbon (Fitzgerald). Well, help is maybe not the operative word, he is really put in charge but does it surreptiously to assuage the ego of Father Fitzgibbon and allow him his pride. This is a feel good movie; it has all the ingredients, one cup most popular personality of the time (Crosby), comfortable grandpa figure in Fitzgerald, cute kids, music and a wholesome and positive message. I couldn't take a steady diet of homespun Norman Rockwell , everything is gonna be all right movies like this, but sometimes you just need to be uplifted. Looking back some of the ones listed above were most definitely better movies overall , but the times of WW2 made this positive movie more popular than noir type films like Double Indemnity and the like.[/color] It has some catchy songs and is just fun. Audiences of today might thing it is cheesy or corny , but just become a child again and let go and have fun. You can go back to superheroes and slashers and spy thrillers with your next selection. This movie was so popular it spawned a sequel (very unusual in that day) that is likely today better known (Belles of St Mary's). This is one that gets a rental recommend from me, not one you are going to watch over and over but a decent one time viewing if you can put your sarcasm on low for a bit :) [u]It Happened one night[/u] [img]http://carteles.metropoliglobal.com/galerias/data/641/17wQ5y604o4013hwegrjB24g3vafqbz348-thumb.jpg[/img] The grandfather of the screwball genre, It Happened One Night is an icon amongst film fans and appears in many, many lists of top all time films. Frank Capra was one of the most famous and proflic directors of his age and specialized in upbeat, happy, All American fare such as [color=#0000ff][u]It's a Wonderful Life [/u][/color]and [color=#0000ff][u]Mr. Smith goes to Washington[/u][/color] The story is a fairly simple and mundane one on the surface, but the wordplay of the script and charm of the two leads (Gable and Colbert)give it its everlasting appeal. The legend is that the heads of MGM and Paramount lent the two stars to Columbia (a small studio at that time) to take them down a peg from the star treatment they had seemed to take for granted Spoiled rich girl Ellie Andrews (Colbert) is about to enter into a marriage which her father forbids. She jumps off her father's (Connolly) yacht in Miami and is bound for New York to meet her beau. Her father uses all his means to track her down, so Ellie is forced to flee via bus. On the bus, she meets Peter Warne, a drunkard reporter fired from his position at a paper. [b]Editor:[/b] [i]Listen, you wouldn't know a newstory if it reached up and kicked you in the pants.. Yeah, I got all of your copy, why didn't you tell me you were going to write it in Greek.. I'd have started a new department[/i] [b]Peter Warne[/b]: [i]That's free verse, you gashouse palooka[/i] [b]Editor:[/b] [i]What do you think is so free about it?, it cost this newspaper plenty, a gob of dough and its not going to happen any more[/i] [b]Secretary[/b] (entering):[i] Sir, did you know he reversed the charges on that call?[/i] These two meet on the bus and we can all tell today where this is going but we are going to enjoy the scenery.. They are going to have a love-hate relationship, fall in love, complications set in and finally a happy ending, and we aren't disappointed.. The movie has two scenes especially which live forever in movie lore 1. The hitchhiking scene-- Where after they have left the bus, they attempt to hitch a ride and Peter with all his expertise is unsuccessful. Ellie flashes a little leg and stops a car dead in its tracks.. Peter will not give credit and comes back with a smart remark [b]Ellie[/b]: [i]Ill stop that car and I wont use my thumb.[/i] [b]Peter[/b]: [i]Why didn't you take off all your clothes? You could have stopped 40 cars[/i]. [b]Ellie:[/b] [i]Well,ooooooo . I'll remember that when we need 40 cars... Well, I proved once and for all that the limb is mighter than the thumb[/i] 2. The bedroom scenes in the hotel. Here Capra takes the code limits of no double beds and exaggerates them and pokes fun with the "walls of jericho" analogy. But he makes it as thought it is his (Peter's) idea to further allay her fears of him, to show he is a gentleman [b]Peter[/b]: [i]Behold the walls of Jericho, Uh maybe not as thick as the ones that Joshua blew down with his trumpet, but a lot safer. You see uh I have no trumpet ........ (indicates he wants her to go to the other side) Would you mind joining the Isrealites? (she doesnt budge) Perhaps you'd like to see how a man undresses. You know a funny thing about that. Quite a study in paychology. No two men do it alike. you know i once knew a man who kept his hat on until he was completely undressed.. Yeah, now he made a picture.. Years later, his secret came out. He wore a toupee. I have a method all my own. If you notice, the coat came first, then the tie, then the shirt, Now , according to Hoyle, the pants should be next, that's where I am different... I go for the shoes next. First, the right , then the left.... after that its every man for himself... (starts to unbuckle pants and Ellie runs to her side)[/i] . Capra humorously revisits the "trumpet" at the end when they are in the hotel as married and the clerks are curious as to why the would ever want a trumpet This movie like many in the code day with directors like Wilder and Capra and STurges pushed the code where they could and poked playful fun at our institutions like family, religion, marriage etc. The fun is in good humor and not mean spirited at all. Peter is a good man and truly loves Ellie and is on his best behavior and is very chivalrous, he is a combination husband figure (They have to pose as married on occasion) and father substitute (helping her to budget her money) Peter takes shots at the rich , saying they dont or cant enjoy the simple pleasures of life. They dont know how to dunk or piggyback. Additionally , all he wants is his $39.60 back right before the end when he could have had thousands... Money is not important to him The media is another target, for example when Peter moves the newspapers to get a seat on the bus. [b]Peter[/b]: I[i] never did like the idea of sitting on newspapers. I did it once and all the headlines came off on my white pants.. On the level! Nobody bought a paper that day. They just followed me around and read the news on the seat of my pants[/i] I think Ive figured out why screwball comedies like this might be my 2nd favorite genre after noir. They both rely on strong central characters but the best are made truly rich and classic by their quirky supporting players.. Mr. or Ms. John Q Public... , the hotel clerk, the guys who end up singing the "trapeze" song on the bus.. Mr. Shapeley.. these types of people are ones , the regular guy can identify with.. Few of us are Clark Gable or Humphrey Bogart or Barbara Stanwyck or Ava Gardner or Claudette Colbert.. . We are more like the desk clerk or the guy or girl on the bus and it makes us feel good to see our "surrogates" get a laugh or help solve the crime.. I liked this one a lot and it is one that must be seen.. a classic, i slightly prefer the Cary Grant screwballs but would not argue against someone who had this as a favorite. I guess I am not used to seeing Gable in this type of role but he was remarkable as the man around whom the movie centers... I know some of you are tentative about 1930's movie as being so old , but give this one a chance for some good laughs :) this rambles a bit but you get the idea
Charlie Jenkins
Four for Texas Quotes
There are no approved quotes yet for this movie.
Discussion Forum
Discuss Four for Texas on our Movie forum!