Four Friends
(1981)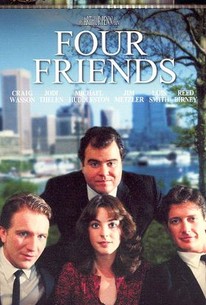 Movie Info
The American dream of the 1960's is captured in this tale of four friends. A young woman and the three men that love her are reunited after years apart since high school. They have much to learn from each other's experiences.
Critic Reviews for Four Friends
Audience Reviews for Four Friends
½
This is a great film. I admired the picture because of the four characters since each of them are close to one another, they relate pretty well, change and sadly move on. The main character played by Craig Wesson is the one I felt most familiar with and there is a scene where his friend, a girl, played by Jodi Thelan shows up at Wesson's house and wants to sleep with him but he shyfully isn't ready. Then there is another great scene where Thelan, years later, meets up Wesson, once again, and mentions she is ageing...They fight, they're both tired of being young and tired of acting immaturish. It's as if they are both afraid of life and afraid to commit to one another. The ending is a nice way to end the picture but I don't want to say only for you to see it for yourselves. Now If you don't mind films where you feel you might be interested in watching the lives of these characters then this is a picture I would definetly recommend for you. Also known as Moritorium and Georgia's Friends, Four Friends follows the titular quartet from high school to young adulthood. The film is set during the tumultuous 1960s, an era when everyone's values were turned inside out, shaken around, and reassembled. The central character is first-generation American Craig Wasson, who confounds his Yugoslavian father (Miklos Simon) by pursuing his own let-it-all-hang-out lifestyle. Wasson's best friends are athlete Jim Metzler and chubby Michael Huddleston; all pursue the affections of bewitching Jodi Thelan. Though they are obviously deeply in love with one another, Wasson and Thelan continue to foolishly avoid a long-term commitment as the sixties unfold around them. "Four Friends" is a return to form from director Arthur Penn who knows the 60's era and directs this story masterfully with real emotion. Steve Tisch has written another great script.
½
I get why the critics love it. I get why Ebert gave it four stars. All right? I get it. I just don't like it. Georgia is quite possibly one of the most intolerable characters I have seen in a movie. Ever. Too bad I have to write a paper on this, I can't remember much at the moment except for remnants of "What the hell is going on in this movie? Why did that happen?"
Hannah McSpadden
What starts as a rather humdrum coming-of-age film transforms into a profound view on human emotion and life choices. This metamorphosis occurs halfway through during one of the most shockingly abrupt changes in overall tone I have ever seen, adding a large dose of dark comedy to this touching drama.
Jeff B
Four Friends Quotes
There are no approved quotes yet for this movie.
Discussion Forum
Discuss Four Friends on our Movie forum!