Four Jills in a Jeep
(1944)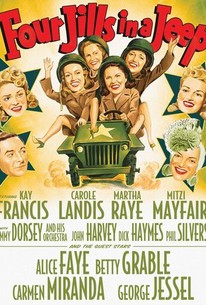 AUDIENCE SCORE
Critic Consensus: No consensus yet.
Movie Info
Four Jills in a Jeep is the (mostly) true story of a four-girl USO team, entertaining American troops overseas. Kay Francis, Martha Raye, Carole Landis and Mitzi Mayfair play "themselves," recreating their recent whirlwind tour of Europe and North Africa. This wisp of a plot takes a back seat to the musical numbers performed by the four stars, by Dick Haymes in his screen debut as a singing GI, and by guest stars Alice Faye, Betty Grable and Carmen Miranda. Phil Silvers, George Jessel, and Jimmy Dorsey and his orchestra also pop up to do their usual. Very much a time capsule of the War years, Four Jills in a Jeep was later adapted into a best-selling book, ostensibly written by costar Carole Landis.
Rating:
NR
Genre:
, , ,
Directed By:
Written By:
In Theaters:
On DVD:
Runtime:
Studio:
Twentieth Century Fox
Critic Reviews for Four Jills in a Jeep
All Critics (1) | Fresh (1) | Rotten (0)
While it's an overly-cleaned-up reworking of the truth, Jills is also fine entertainment... A lovely testament to the hard work of the USO.

Audience Reviews for Four Jills in a Jeep
½
Martha Raye Is Funny, At Least Before World War II, there wasn't much the entertainment industry could do for the military. It was challenging to get people to the front, and much before World War I, there weren't a lot of celebrities; there was no reason for any given individual to do a tour of the Civil War battlefields, because most of the troops wouldn't have recognized whoever-it-was anyway. However, yes, World War II was the first war to happen after true modern celebrity culture began. Oh, I'm not sure every US soldier in England or North Africa recognized, say, Martha Raye--and I'll guarantee most of them couldn't recognize Mitzi Mayfair--but they still recognized, say, Bob Hope. Carole Lombard met her death on that plane because she had sold so many war bonds that a group of soldiers agreed that she had honorary rank and gave her their seats. For that first war in the celebrity era, you got celebrities doing their bit by showing their faces. Here, it starts with Martha Raye bragging. "Sure," she says, "we'd love to go to England and entertain the troops, if the military lets us." It's really intended to be the silly sort of patriotic nonsense that people spout, empty promises. However, Kay Francis is putting together a tour group to perform at the camps in the UK, and she's looking for headliners. So she takes Raye, hoofer Mitzi Mayfair, and singer Carole Landis. In the UK, they are assigned Sergeant Eddie Hart (Phil Silvers) as their guide, driver, and whatever else they need him to be. Their first full day there, Carole meets Ted Warren (John Harvey), a pilot, and she falls in love. Mitzi, meanwhile, used to work with Lieutenant Dick Ryan (Dick Haymes), before he was drafted. Naturally, they happen to run into each other that same morning. The four women do their shows, are wooed by their men, and generally have adventures and build morale. And then Martha Raye mentions they'd go to North Africa if they could . . . . The woman actually did do the tour which appears in the movie, at least approximately. Carole Landis even actually met, fell in love with, and eventually married a soldier. What's more, Martha Raye spent much of her life touring and in fact was an honorary Green Beret for the performances she did in Vietnam. The movie includes a title card at the end encouraging us to buy war bonds, another thing a lot of stars worked on during the war. As I said, it's what killed Carole Lombard. Cary Grant was denied permission to enlist in the British military because he was contributing so much money to causes surrounding the war effort. Now, I don't think anyone should blindly accept the military's word for things, and I don't believe we should blindly accept whatever justification for war we're given. However, there are to this day plenty of people opposed to the war who are still willing to go overseas, into danger, and entertain the troops--who after all didn't ask to be there. And I bet a lot of their stories would be more interesting than this was. Martha Raye gets the funniest line in the movie, which I will tell you now so you don't bother with the movie. A military officer is lecturing them in North Africa, where they've inadvertently ended up a little closer to combat than they'd like, and he says that they won't accomplish much or be very entertaining with their heads blown away. Martha Raye says it's obvious he's never been to Hollywood. Mostly, though, it's so-so musical numbers and a tired, cliché script. Mitzi Mayfair had only done a few shorts, and she married a studio exec not long after the movie's release and never acted again. However, I'm not sure how much she can be said to have acted here. Kay Francis made a lot of movies, but this was one of her last. Carole Landis was a troubled young woman, and she committed suicide four years later. She, Kay Francis, and Martha Raye are doing their best, but there isn't much to work with. I've been doing a lot of research into World War II for a book I'm writing, and there's a whole other book to be had from what I'm discovering about the USO. It wasn't all whimsical hijinks. After all, Captain Glenn Miller died the year this movie came out. Even in this otherwise lighthearted movie, the women are shown spending exhausting hours working in an understaffed field hospital Somewhere in Africa. No one they care about personally dies, and in fact I'm not sure any character with a name dies, but it's quite clear that there are people dying. Kay Francis says the boys in the hospital aren't whining, which isn't strictly true, but there's a nobility to our image of World War II that I'm not sure any other war in history holds. Yes, there were some pretty shameful things, too; that book I'm writing gets more about the Japanese-American internment with every chapter. (And, you know, there's the Holocaust!) However, there were also moments where people put themselves in danger they didn't need to face just to give the people fighting a good time. It's a very human thing.
Edith Nelson
Four Jills in a Jeep Quotes
There are no approved quotes yet for this movie.
Discussion Forum
Discuss Four Jills in a Jeep on our Movie forum!