Four of the Apocalypse
(1975)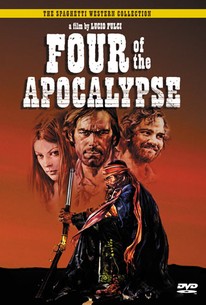 AUDIENCE SCORE
Critic Consensus: No consensus yet.
Four of the Apocalypse Photos
Movie Info
A vain gambler (Fabio Testi), a pregnant prostitute (Lynne Frederick), a bumbling alcoholic (Michael J. Pollard) and a man who claims to see ghosts (Harry Baird) become unlikely traveling companions in this unusual spaghetti Western from notorious Italian horror director Lucio Fulci. The only survivors of a frontier-town massacre staged to rid the once-lawful town of its overpowering criminal element, the quartet ride the Western trail in a last-ditch bid to reach the next populated area and get back on their feet. Soon drawing the attention of a trigger-happy bandit named Chaco (Tomas Milian), the four cautiously accept him into the fold when Chaco displays a remarkable talent for hunting. When their newfound friend tortures the foursome and leaves them for dead after feeding them hallucinogens, the remaining survivors' desperate bid for survival leads them to take shelter in a ramshackle mining town inhabited only by men of questionable honor. As the birth of her child draws closer, prostitute Bunny (Frederick) looks to suave gambler Stubby (Testi) for the love and support to bring her child into the world. Though the men of the town reluctantly band together to aid Bunny in the birth of her baby, Stubby finds himself torn between the prospect of fatherhood and his unquenchable thirst for revenge against the supremely evil Chaco.
Critic Reviews for Four of the Apocalypse
All Critics (4) | Fresh (2) | Rotten (2) | DVD (1)
Maybe not quite as 'out there' as El Topo or even Django Kill, but the mix here of good-natured jokiness & gravity (even depravity), along with strange excursions into the discourse of theology & gender, make 4 Of The Apocalypse a weird trip alright.
holds up well because it is visually evocative and it resists easy answers, instead becoming an enigmatic character study
November 20, 2002 | Rating: 3/4
Audience Reviews for Four of the Apocalypse
Spaghetti westerns got darker as the era was approaching it's end. Having explored almost every narrative route possible they began to become more introspective. Lucio brings his signature to this work, and while there's not much action or gore going on there's an always obscure and almost depressing mood that rides along with the characters. Milian shines big time as the vicious chaco, the soundtrack is way too happy for what we are seeing onscreen, maybe that was the idea? Our heroes could have been a bit smarter, who would be willing to share some peyote with a guy like chaco?
Tsubaki Sanjuro
Super Reviewer
Entertaining enough film from the end of the spaghetti western phase. For a Fulci film, there isn't much in the way of gore or graphic violence, but there is a surprising amount of good directorial touches. Worth a look. Bonus: if you can watch the extras, the most entertaining thing on the whole disc is the 17 minute Fulci / making of, in which Tomas Milian's ego shines through in a very funny way.
This is to Spaghetti Westerns like Zombi 2 is to horror. It is just all over the place crazy. Between the peyote ritual, full frontal male nudity in the pouring rain at a graveyard and a Charles Manson gunslinger villain, this goes beyond what you might see coming. The hippie soundtrack is a nice touch. I always love a good Lucio Fulci movie to just assure myself that you can never explore enough in film. He really goes where no Italian film maker ever wanted to go.
Conner Rainwater
Super Reviewer
Four of the Apocalypse Quotes
There are no approved quotes yet for this movie.