Four Rode Out
(1970)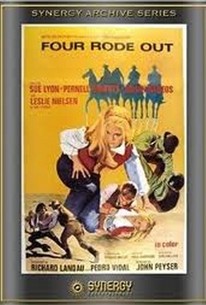 AUDIENCE SCORE
Critic Consensus: No consensus yet.
Movie Info
In this western, a Mexican desperado tries to flee his partner, a determined girl friend, and a US Marshal.
Rating:
R
Genre:
,
Directed By:
Written By:
In Theaters:
Runtime:
Studio:
Sagittarius Productions
Critic Reviews for Four Rode Out
There are no critic reviews yet for Four Rode Out. Keep checking Rotten Tomatoes for updates!
Audience Reviews for Four Rode Out
½
This is filmed in Spain so I guess puts it in the near category of Spaghetti Western, though its not quite the same as a Italian Western. In this one a US Marshall (Pernell Roberts who is Adam on Bonanza) is chasing a Mexican bad guy, and joining him in the chase which totally blew my mind is Mr. Brown (played by Leslie Nielsen) can you believe it. And also in the chase is the most beautiful Myra Polsen who is played by Sue Lyon. Well in the end only the Marshall makes it back across the desert, my only question is how come it only took a day and little desert to find the bad guy, but took 5 days to get back with horses and people dropping like flies after a raid bug bomb has gone off. Anyway 2 1/2 stars about the best color in a film released by Mill Creek, as this came from the Mill Creek Mean Guns 20 pack collection which was found in Big Lots for $3.99. 20 movies for $3.99 not bad.
Bruce Bruce
Super Reviewer
OK PERNELL ROBERTS WAS GOOD IN THE MOVIE BUT THE ACTING BY EVERYBODY ELSE WAS BAD THE DIRECTING WAS BAD THE WRITING WAS THE WORST.
MATT SPARKS
A U.S. Marshall (Roberts) on the verge of retirement rides into the desert to capture a young Mexican bank robber (Mateos) and bring him back to stand trial. He is soon joined by a slimy, treacherous Pinkerton agent (Nielsen) and the bandit's naive girlfriend (Lyon), both of whom have reasons for ensuring the marshall's mission fails. "Four Rode Out" is equal part western, morality play, and character study-oriented melodrama. Although produced by a European film company and shot in Spain--thus placing it firmly in the category of "Spaghetti Western", this film has a mostly American cast, was written by an Amercan, and was directed by an American as well. It also has more in common with American westerns from that time period--like "Hang 'Em High" ([url="http://www.rottentomatoes.com/vine/journal_view.php?journalid=245672&entryid=331066&view=public"]review here[/url]), "Ride in the Whirlwind" ([url="http://www.rottentomatoes.com/vine/journal_view.php?journalid=245672&entryid=304175&view=public"]review here[/url]) and "The Shooting" ([url="http://www.rottentomatoes.com/vine/journal_view.php?journalid=245672&entryid=419266&view=public"]review here[/url])--in that it is slow-moving with talk outweighing the action. Unfortunately, "Four Rode Out" has none of the style or moral punch of any of the three movies it compares easily to. "Four Rode Out" is weakly directed and edited. The film mostly fails to convey the threatening expanse of the desert the character's struggle through during the film's second half and most scenes tend to peter out instead of ending with some sort of point or significant development. The film also suffers from a subplot surrounding Leslie Neilsen's character that never really pays off... and from Neilsen himself not being suited for the sort of role he's cast in here. (Frankly, he seemed more villanious in "The Reluctant Astronaunt" where he wasn't even a real antagonist.) Aside from Neilsen being miscast, every lead performer in the film gives an excellent accounting of themselves. Sue Lyon even managed to make a type of character that usually annoys me to no end--the lovestruck, horny teenaged girl too stupid to see the evil in her Bad Boy seducer--come across as sympathetic, and these performances elevate the film to a state of just good enough to be worth your time. It's not an overlooked classic like "The Shooting", but it's adequate. Four Rode Out Starring: Pernell Roberts, Leslie Neilsen, Sue Lyon, and Julián Mateos Director: John Peyser
Steve Miller
Four Rode Out Quotes
There are no approved quotes yet for this movie.