Four's a Crowd
(1938)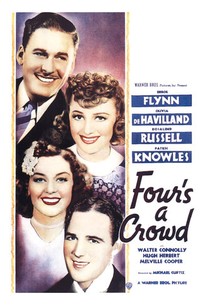 AUDIENCE SCORE
Critic Consensus: No consensus yet.
Four's a Crowd Videos
Four's a Crowd Photos
Movie Info
A standard-issue "screwball comedy" of the 1930s, Four's a Crowd starred a quartet of Warner Bros' biggest stars: Errol Flynn, Olivia DeHavilland, Rosalind Russell and Patric Knowles. Flynn plays a publicity agent hired to stir up "good press" for a nasty millionaire (Walter Connolly). Errol accomplishes this by going back to his old job as editor of a newspaper owned by Knowles, then using the paper to elucidate Connolly's virtues. Along the way, he romances Olivia de Havilland, who plays Connolly's daughter, and Rosalind Russell, portraying--surprise, surprise--Knowles' star reporter. Much to the amazement of the audience, Flynn ends up not with his frequent costar DeHavilland but with Russell. Fast-moving and chucklesome, Four's a Crowd was nothing new; chances are it would never have been made had it not been for the success of the vaguely similar MGM comedy Libelled Lady (36), which likewise had a quadruple-barreled starring lineup (Spencer Tracy, Jean Harlow, William Powell and Myrna Loy).
Rating:
NR
Genre:
, ,
Directed By:
Written By:
In Theaters:
On DVD:
Runtime:
Studio:
Unknown
Cast
Critic Reviews for Four's a Crowd
All Critics (1) | Fresh (0) | Rotten (1)
Old-fashioned lighthearted romantic screwball comedy that is as dumb as it is energetic.

Ozus' World Movie Reviews
Audience Reviews for Four's a Crowd
Breezy comedy with the four stars playing off each other very well. Errol's light touch is especially suited to this kind of material to bad he didn't have more chances to use it in this type of film.
Four's a Crowd (1938) -- [6.5] -- It's surprising Errol Flynn didn't make more screwball comedies, because he's completely at home in this 'who's duping who' comedy, outrunning the guard dogs, shaking hands with people in side-by-side moving cars, and carrying on romantic telephone conversations with two women simultaneously. In "Four's a Crowd," he's teamed with his regular leading lady Olivia de Havilland, as well as Rosalind Russell (in a newspaper role the predates 'His Girl Friday'), Patric Knowles, and Walter Connolly. Flynn plays the supporting characters off one another for his own selfish gain. The film climaxes with a double-elopement wherein the couples chase each other, quarrel, split up, and switch partners before the vows are finished. If you're a fan of classic screwballs, this one shouldn't disappoint. And it's the only chance you'll ever get to see Errol Flynn bite both a dog and Rosalind Russell in the same movie. Look for character actor Margaret Hamilton (Oz's wicked witch) in small part.
Scott Schirmer
½
You'll have a chance to see me when bananas grow on the North Pole Bob Lansford is a charismatic fellow that used to run a newspaper. He is asked by a young lady to help her save the paper. Bob initially says no but when he discovers the young lady that asked him is the granddaughter of a man he despises, he decides to play along. A complicated love triangle forms between him, the granddaughter, his best friend, and his best friend's fiancée. "If I wanted brains I'd go out and hire some." "You ought to." Michael Curtiz, director of White Christmas, The Vagabond King, Casablanca, Mildred Pierce, The Adventures of Robin Hood, Yankee Doodle Dandy, and Captain Blood, delivers Four's a Crowd. The storyline for this picture is fun to watch unravel but nothing spectacular overall. The script is well written and the cast delivers solid performances and includes Errol Flynn, Olivia de Havilland, Rosalind Russell, Patric Knowles, and Walter Connolly. "Do you want me to get a bullet in my head?" "I'd like nothing better." I have always enjoyed watching Errol Flynn movies and came across this picture while flicking through the channels. I decided to give it a shot and found it fairly entertaining. This isn't the greatest film in the world but Flynn displayed perfect charisma and I loved how the characters played off each other. I do recommend giving this film a shot. "You people don't want a marriage you want a divorce." Grade: B-
Kevin Robbins
Discussion Forum
Discuss Four's a Crowd on our Movie forum!
News & Features