Francis of Assisi
(1961)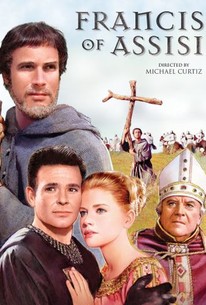 AUDIENCE SCORE
Critic Consensus: No consensus yet.
Francis of Assisi Videos
Francis of Assisi Photos
Movie Info
This penultimate film by director Michael Curtiz, perhaps best known for his 1942 Casablanca, is a verbose, routine religious drama on the life of St. Francis of Assisi. After quickly passing over St. Francis' early life as the son of a wealthy cloth merchant in Assisi, the story notes his talents in and out of battle. St. Francis hears the call to the cloth (in his hagiography, the call was repeated several times before he finally responded completely), and gives up all his worldly goods to dedicate himself to God. The main focus of attention is then on his relationship to Clare (Dolores Hart) a young aristocratic woman who was so taken with St. Francis that she left her family and became a nun. St. Francis by this time (1212 A.D.) had a well-established reputation for his vows of poverty, and aside from the dubious aspersions cast on his interest in Clare, the drama goes on to note miracles and other aspects of his life, up to and including his death on October 3, 1226.
Rating:
G
Genre:
, ,
Directed By:
Written By:
In Theaters:
On DVD:
Runtime:
Studio:
20th Century Fox Pictures
Cast
Critic Reviews for Francis of Assisi
All Critics (1) | Fresh (0) | Rotten (1)
Michael Curtiz, a man who never met a stationary camera he didn't romance.
Audience Reviews for Francis of Assisi
½
How can I bargain with my belief? Francis Bernardone grew up in a small town known as Assissi. He was a reckless hoodlum as a youth who frequented in women, alcohol, and gambling; however, when an attractive woman grabs his eyes, he decides to settle down, become religious, and take up the religious crusades. After his crusades, he decides to form his own religious group. He is initially received with pushback but he makes a strong case to lead his flock in the right direction. "What does a man do that wasn't born to be a fighter?" Michael Curtiz, director of The Vagabond King, White Christmas, Casablanca, Yankee Doodle Dandee, Virginia City, Kid Galahad, and Four's a Crowd, delivers Francis of Assissi. The storyline for this picture is interesting and reminded me of a poor man's Ben Hur. The settings were very good and the characters were well presented and well written. The cast delivers excellent performances and includes Bradford Dillman, Dolores Hart, and Stuart Whitman. "Don't you think brother lamb would be happier with his mother?" I DVR'd this picture off Turner Classic Movies (TCM) because I have thoroughly enjoyed Curtiz's work to date. This movie is one of his last pictures and was not as good as some of his previous works. This was entertaining and an interesting story but may not be as compelling as other great religious pictures. I do recommend seeing this picture but would not add it to your classic film DVD collection. "You're either a fool or more noble than nobility." Grade: C+/B- (6.5)
Kevin Robbins
I actually enjoyed this much better than the Zeffirelli film "Brother Sun, Sister Moon." That was more artistic, but this was more faithful to the story of St. Francis' life. I think I've learned that Michael Curtiz does a wonderful job in simply and faithfully translating classic stories to film (from the few of his movies I've seen.)
Jeff Bachman
Lavish production, but the sets look phony and the costumes aren't believable. Good cinematography. Decent acting. A handsome film, but not very convincing. Bradford Dillman is appropriately saintly. Michael Curtiz's able direction is a plus for the movie.
James Higgins
Discussion Forum
Discuss Francis of Assisi on our Movie forum!
News & Features