Frank and Ollie
(1997)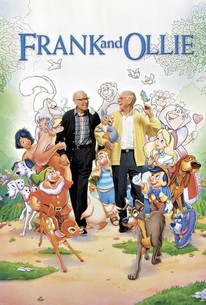 Movie Info
This documentary profiles Frank Thomas and Ollie Johnston, the two artists responsible for the Disney style of animation. The two close friends are responsible for making 23 feature during their 40 years at Disney. Films include Snow White, Bambi and Pinnochio. Together they were a perfectly complimentary pair. Frank was analytical and Ollie intuitive. It is also interesting that their personal lives closely paralleled each other.
Rating:
PG
Genre:
, , ,
Directed By:
Written By:
In Theaters:
On DVD:
Runtime:
Critic Reviews for Frank and Ollie
Audience Reviews for Frank and Ollie
A loving and insightful glimpse into one of the greatest friendships in the history of animation. It's one thing to read about these guys, but it's another experience entirely to watch them in action.
Chris Hewitt
The Guys Who Killed Bambi's Mom Everyone who has seen any of the classic Disney animation has seen the work of Frank and Ollie. They worked on the features from [i]Snow White[/i] to [i]The Fox and the Hound[/i]. And of course, When I Was a Child, the Disney Channel would routinely remind us of such. They were still around then; neither has been dead a full decade even now. And When I Was a Child, Disney was a lot more aware of its roots than it seems to be now. For seventy years now, an easy way to show the camaraderie of the golden years at Disney is to show Frank and Ollie goofing around together. Disney didn't form that partnership, merely benefited from it. However, the friendship between Frank and Ollie has been on the silver screen since even before my parents were born, and its last appearance was in 2004, when they essentially played themselves as extras in [i]The Incredibles[/i]. There are still some people who remember the debt those two good friends are owed. Frank and Ollie are Frank Thomas and Ollie Johnston. They met at Stanford, where they worked together on the humour magazine. They moved on to Chouinard Art Institute in Los Angeles, joining that school's seriously impressive list of alumni. And then, in the '30s, Disney was hiring, and everyone concerned became very lucky indeed. Most of the movie is the two men sharing stories about their days working for Walt and their friendship with each other. And indeed, the friendship really goes without saying through most of the movie, just made clear by the fact that, more than sixty years after they met, they still own houses next door to one another and spend a lot of their time together. As much as anything, this is a first-person account, a pair of them, of one small slice of history. They are full of anecdotes, and they are also delightfully willing to act out some of the scenes they famously drew all those years ago. Am I overstating things, claiming that this is a slice of American history? Certainly not. Leaving aside what I consider to be an obvious fact that history is made up of everything that happens, it is a simple fact that the twentieth century was shaped by its media. Not necessarily more so than any other century; I think we understate the importance of media on past centuries just because the media which shaped them did not include the media we rely on. However, if you asked probably a majority of people born after 1935, and there are fewer and fewer people left born before then, the first movie they saw in the theatre was probably a Disney movie. For people about my age and younger, we grew up watching the Disney Channel. We all know the signature, the castle, the silhouette. And I'm pretty sure the denigrating adjective "Mickey Mouse" is in the [i]Oxford English Dictionary[/i]. It's also true that the films are a reflection of the culture in which they exist, and that's important, too. Starting in about the late '40s and early '50s, Walt seems to have essentially turned the feature department over to Frank, Ollie, and the other seven Old Men. He still worked with them, but he was also involved in the televisions hows and the theme parks and various other projects. They had to be self-directed, because Walt wasn't guiding every step anymore. However, it's quite clear that Walt's trust was not mislaid. Frank and Ollie tell stories about deciding how to make [i]Bambi[/i] more interesting or show Baloo's need to "betray" Mowgli by how Baloo moves. If you are at all interested in Disney animation, this film is essential--though I don't think you have to be in order to find the movie worth watching. Indeed, watching it may get you interested in classic Disney animation, despite the fact that it's much more fashionable to denigrate Disney these days. In many ways, the film does the job of reminding you that animation is an artform, and one more complicated than a lot of people realize. It's soothing to watch this if you have recently watched [i]The Boys[/i]. (It also appears to contradict the statement in there that the partnership will fall apart if the wives socialize; Marie E. Johnston seems to get on just fine with Jeanette A. Thomas.) Frank and Ollie loved each other very much, to the extent that the word is even used once, rare in a discussion of two men who aren't actually brothers. (Being the product of my generation, I'm forcibly reminded of the [i]Wayne's World[/i] "I've learned that platonic love can exist between two grown men!") Frank and Ollie were best friends for longer than a lot of lifetimes. They worked together. In the early days, before they were married, they lived together. After that, they always lived near each other, in the same apartment building or duplex or just next door. They carpooled. They socialized. They took vacations together. And never, in all those years, did they get tired of spending time with one another. Not bad. Not bad at all.
Edith Nelson
½
A perceptive glimpse into the lives of two friends who helped create some of the most beloved Disney characters of all time. I fell in love with Frank and Ollie as they introspectively told stories that penetrated my heart. I was awed at the incredible talent that goes into animation and the genius that these two men brought to Disney films. The film is made complete with a sprinkling of clips from Disney movies to show examples of what they're talking about. The best part was when a man said "A verse in Proverbs says 'iron sharpens iron' and that's Frank and Ollie. They sharpen each other."
Dannielle Albert
Super Reviewer
Discussion Forum
Discuss Frank and Ollie on our Movie forum!