Frank Sinatra - The Main Event
(1974)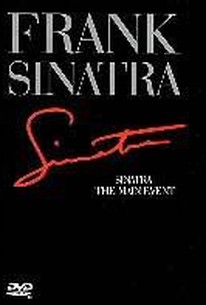 AUDIENCE SCORE
Critic Consensus: No consensus yet.
Movie Info
Rating:
NR
Genre:
Directed By:
On DVD:
Runtime:
Critic Reviews for Frank Sinatra - The Main Event
All Critics (1) | Fresh (1) | Rotten (0)
While this 1974 concert does not capture Sinatra at his prime, his tone improves over the course of the set and his phrasing remains as seemingly effortless as ever.

Audience Reviews for Frank Sinatra - The Main Event
A mature Sinatra sings all his trademark songs all alone in a boxing ring stage setting. A one man show, 20,000+ fans, many of them celebrities of the time themselves attended the EVENT. SEE the entire film here: http://www.youtube.com/watch?v=PwQtgiY79Mw [img]http://img380.imageshack.us/img380/4313/38rt4.jpg[/img] N0TE that some tracks were recorded elsewhere and not at Madison Square Garden in New York City on October 13, 1974. (see track listing below for details) Kicked off by Howard Cossell with a sports theme, if you never heard Howard or seen him, now is your chance. The verbose Cossell made a long introduction even Frank grew weary off as he was waiting off stage. The crowd there was mesmerized, as great performances often do to them. [img]http://farm3.static.flickr.com/2554/4151564091_a1219fccb0_o.jpg[/img] A fine, memorable concert for marginal fans to big fans of Sinatra, one surely for the library as it was released on DVD in 1991 (the concert was 1974). However, Frank Sinatra was aged, a grandfather at this time and his voice does crack a bit on some of the tunes. But physically he is mildly energetic and in fine form. I have the vinyl Lp released some time after the actual concert. So to see the actual performance years later is very interesting. My only problem with Frank is his effort to sing top 40 hits of the day. [img]http://jazzmatters.files.wordpress.com/2010/07/sinatra.jpg[/img] Bad Bad Leroy Brown, while in this concert a crowd pleaser at the time, really came off not in Frank's best interests. You Are the Sunshine (of my life) is another. However, what I think IS in Frank's best interests is "Angel Eyes" his best slow song to my mind in this concert. The ultimate Establishment, though liberal, entertainer of the day (besides John Wayne), Frank couldn't resist singing The House I Live in (thats America to me). The country was 1974, being tossed about by Vietnam and Watergate. It was not a pretty experience. [img]https://encrypted-tbn2.gstatic.com/images?q=tbn:ANd9GcRb3jyU9K-B1nflYRCN796xPygr-TRcPhY52x2go_G2qeBhRiuDIQ[/img] A young Sinatra, could this be a young Mick Jagger too? The resemblence is uncanny. But the crowd, filled with legend performers, sports celebrities, actors/actresses and probably not a few mafioso "mob" families as well.. all got a chance to witness their hero. Well, for one night all those current day events didn't matter much. They got a show to remember. Now you do too. [img]http://www.the-main-event.eu/images/swingingsinatra_480.jpg[/img] NOTES for noteworthy: 1 "Sinatra: New York" (2009): features Frank Sinatra performing at Madison Square Garden from October 12, 1974 (the night before this film The Main Event). [img]http://upload.wikimedia.org/wikipedia/commons/5/5f/Sinatra.jpg[/img] Personnel Frank Sinatra - Vocals Woody Herman and the Young Thundering Herd Bill Miller - Conductor Track listing[edit source] 1.Overture: "It Was a Very Good Year"/"All the Way"/"My Kind of Town" (Ervin Drake)/(Sammy Cahn, Jimmy Van Heusen)/(Cahn, Van Heusen) - 3:12 (introduction by Howard Cosell) 2."The Lady Is a Tramp" (Lorenz Hart, Richard Rodgers) - 3:02 3."I Get a Kick Out of You" (Cole Porter) - 4:37 4."Let Me Try Again (Laisse Moi le Temps)" (Paul Anka, Cahn, Michel Jourdon, Caravelli) - 3:26 5."Autumn in New York" (Vernon Duke) - 2:45 6."I've Got You Under My Skin" (Porter) - 4:44 7."Bad, Bad Leroy Brown" (Jim Croce) - 2:49 8."Angel Eyes" (Earl Brent, Matt Dennis) - 8:32 9."You Are the Sunshine of My Life" (Stevie Wonder) - 2:49 10."The House I Live In (That's America to Me)" (Lewis Allan, Earl Robinson) - 6:41 11."My Kind of Town" - 3:01 12."My Way" (Anka, Claude François, Jacques Revaux, Gilles Thibault) - 4:57 Tracks 10 and 12 recorded in Boston Garden, October 2, 1974 Tracks 6 and 8 recorded at War Memorial Auditorium, October 4, 1974 Track 5 recorded in Madison Square Garden, October 12, 1974 Tracks 1-4, 7, 9, and 11 recorded in Madison Square Garden, October 13, 1974 [img]http://www.bibliopolis.com/books/images/clients/certainbooks/21763.jpg[/img] Live album by Frank Sinatra Released 1974 Recorded October 1974 Genre Classic pop Length 50:42 Label (vinyl LP) Reprise [img]http://i1.ytimg.com/vi/M6AOdthSmWQ/hqdefault.jpg?feature=og[/img]
monsieur rick
Frank Sinatra - The Main Event Quotes
There are no approved quotes yet for this movie.