Frankenstein and the Monster from Hell
(2003)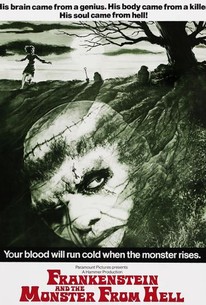 Frankenstein and the Monster from Hell Videos
Frankenstein and the Monster from Hell Photos
Movie Info
When the experiments of a young doctor are discovered to involve human bodies, the man is thrown into a mental institution which happens to be managed by Dr. Frankenstein. Delighted to discover their similar interests, the two men animate a creature who turns out to have an unhealthy dietary preference. This is the final film in the Hammer Frankenstein series,
Critic Reviews for Frankenstein and the Monster from Hell
Audience Reviews for Frankenstein and the Monster from Hell
½
Enjoyable final Cushing Frankenstein film from hammer Studios. Set in an insanse asylum, Dr. Frankenstein of course resumes work upon building a new human from pieces. A worthy final entry in the series.
Al Miller
Now this is the stuff! A real good filthy one. Not only is the good Baron treating the criminally insane in a dirty prison, but he is blackmailing the warden and using the inmates as his only personal body farm. Along comes the uppity Shane Briant as Dr. Helder, who has been convicted of the same sort of arrogant grave robbing organ harvesting. Why these ghouls rely upon town drunkards, I will never understand. Madeline Smith plays the Angel, who does not talk, just looks longingly at the various scenery keeping her bosoms well covered. Still what a fetching young girl! Darth Vader plays the monster ape man with the rotting brain of a math professor. Bad things happen. Mainly to the monster. The ending is one of the best in the series.
R.John Xerxes
This horror tale is a lot of fun and moves quickly along. Peter Cushing dominates the cast as the always confident Dr. Frankenstein.
Richard Giblin
Frankenstein and the Monster from Hell Quotes
There are no approved quotes yet for this movie.
Discussion Forum
Discuss Frankenstein and the Monster from Hell on our Movie forum!