Frankenstein's Army
(2013)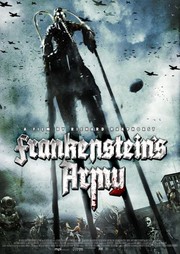 Frankenstein's Army Trailers & Photos
Movie Info
FRANKENSTEIN'S ARMY takes place toward the end of World War II, as Russian soldiers push into eastern Germany and stumble across a secret Nazi lab, one that has unearthed and begun experimenting with the journal of one Dr. Viktor Frankenstein. The scientists have used the legendary Frankenstein's work to assemble an army of super-soldiers stitched together from the body parts of their fallen comrades - a desperate Hitler's last ghastly ploy to escape defeat. (c) Dark Sky
more
Cast
News & Interviews for Frankenstein's Army
Critic Reviews for Frankenstein's Army
Audience Reviews for Frankenstein's Army
This is a movie that could have been excellent unfortunately hampered by yet another shoe-horned (and downright nonsensical considering the depicted time period) found footage gimmick. There is a time and place for found footage, and WWII is not it. That unfortunate misstep causes many problems throughout the film of pacing, cinematography, and dialogue, as often happens when bad and/or lazy writers use found footage as a crutch to jump from one scare to the next with little actual character development in between. However, the performance of the titular Frankenstein as well as the excellent practical effects and designs of his horrific creations (called "zom-bots" apparently?) make it worth checking out. With real camera-work and characters, this could have easily been one of the greatest and most unique horror movies in a long time. Instead it's an uneven mess that doesn't quite manage to overcome its flaws with its admittedly excellent moments of body horror and monster designs. I'm just really hoping for a re-imagining in the future from a writer who knows how to create real dialogue and characters combined with the designs and effects from this film.
Chase Hattersley
½
Do not trust what they tell you!

During World War II the Germans are pushing into Russia. A Russian battalion assigned to push into a section of the invasion stumble into a laboratory where a unique scientist is developing super soldiers. The Russians hold off the soldiers as they try and capture the scientist.

"Go down there and see if you can find a light switch!"
"Why?"
"Because we need more light."

Richard Raaphorst delivers Frankenstein's Army. The storyline for this picture had some potential and was okay to watch unfold. I enjoyed the monsters but not the concept behind them so much. The cast delivers fairly good performances.

"Do you think it's worth it?"
"Maybe."

I recently came across this on Netflix and thought the concept sounded cool so I added it to the queue to watch this Halloween season. This was pretty good in a mindless kind of way. From an "entertainment value" standpoint it feels like Deep Blue Sea. I only recommend this to die hard horror/action movie fans.

"Well, that was fucking useless."

Grade: C
Kevin Robbins
Frankenstein's Army Quotes
Viktor Frankenstein: He's obviously suffering from a little adjustment problem.
Ivan: I'm liberating your rabbits from Fascist Oppression.
Discussion Forum
Discuss Frankenstein's Army on our Movie forum!
News & Features