Frankenstein's Army
(2013)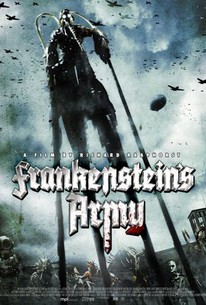 Frankenstein's Army Videos
Frankenstein's Army Photos
Movie Info
FRANKENSTEIN'S ARMY takes place toward the end of World War II, as Russian soldiers push into eastern Germany and stumble across a secret Nazi lab, one that has unearthed and begun experimenting with the journal of one Dr. Viktor Frankenstein. The scientists have used the legendary Frankenstein's work to assemble an army of super-soldiers stitched together from the body parts of their fallen comrades - a desperate Hitler's last ghastly ploy to escape defeat. (c) Dark Sky
Rating:
R (for bloody violence and grisly images, and language)
Genre:
,
Directed By:
Written By:
In Theaters:
On DVD:
Runtime:
Studio:
News & Interviews for Frankenstein's Army
Critic Reviews for Frankenstein's Army
Audience Reviews for Frankenstein's Army
This is a movie that could have been excellent unfortunately hampered by yet another shoe-horned (and downright nonsensical considering the depicted time period) found footage gimmick. There is a time and place for found footage, and WWII is not it. That unfortunate misstep causes many problems throughout the film of pacing, cinematography, and dialogue, as often happens when bad and/or lazy writers use found footage as a crutch to jump from one scare to the next with little actual character development in between. However, the performance of the titular Frankenstein as well as the excellent practical effects and designs of his horrific creations (called "zom-bots" apparently?) make it worth checking out. With real camera-work and characters, this could have easily been one of the greatest and most unique horror movies in a long time. Instead it's an uneven mess that doesn't quite manage to overcome its flaws with its admittedly excellent moments of body horror and monster designs. I'm just really hoping for a re-imagining in the future from a writer who knows how to create real dialogue and characters combined with the designs and effects from this film.
Chase Hattersley
½
Do not trust what they tell you! During World War II the Germans are pushing into Russia. A Russian battalion assigned to push into a section of the invasion stumble into a laboratory where a unique scientist is developing super soldiers. The Russians hold off the soldiers as they try and capture the scientist. "Go down there and see if you can find a light switch!" "Why?" "Because we need more light." Richard Raaphorst delivers Frankenstein's Army. The storyline for this picture had some potential and was okay to watch unfold. I enjoyed the monsters but not the concept behind them so much. The cast delivers fairly good performances. "Do you think it's worth it?" "Maybe." I recently came across this on Netflix and thought the concept sounded cool so I added it to the queue to watch this Halloween season. This was pretty good in a mindless kind of way. From an "entertainment value" standpoint it feels like Deep Blue Sea. I only recommend this to die hard horror/action movie fans. "Well, that was fucking useless." Grade: C
Kevin Robbins
½
Found footage films have always been hit or miss. It's certainly a refuge for lazy filmmakers, who want to make a movie for cheap or they can't afford top-notch cameras. But if done right, it can lead to some really cool and unique experiences. Films like Rec, Troll Hunter, The Bay, and Chronicle prove that when done right, it can be a really effective tool. In the case of Rec, it actually led to a far more intense experience full of great scares. But for the lazy filmmakers, the use of the found footage style can lead to some really nauseating scenes and it ultimately becomes a very annoying and tedious experience. So where does this film fall into? I think it's the first WW2 found footage film, as far as I'm aware, and I think it falls into the middle. I do think that the found footage style was chosen because of the fact that the budget simply wasn't there. I don't think the camerawork is as nauseating as in the absolute worst of the genre, but it's not the best as I don't really see how, other than for story reasons, how the style really benefits the film or it makes the scares that much more intense. It just doesn't, at least in my opinion. The budget that wasn't spent on actually getting decent cameras went to, probably, the best part of the film. And that is the design of the monsters that Frankenstein constructs. If anything, the film is more of a showcase for those monsters than it is a film that wants to tell a story about the monstrosities that the Nazis did during the war, even if this is a very exaggerated version of that. I just think whoever came up with this movie had a lot of sketches for great monsters and he needed a way to get those monsters on screen. And what better way to get them on screen than tying them to experiments the Nazis were doing in order to create stronger soldiers than was available at the time. The problem with these monsters, while the designs themselves are really freaking cool, because the budget really isn't there and what WAS there was spent on the monsters, don't really look like the monstrosities they're supposed to be. They don't look like a disturbing melding of man and machine. The product of the mind of an insane man given the freedom to experiment with live human samples as he saw fit. Much like sci-fi films of the 50s, where it was obvious that it was a man in that alien costume, the same principle applies here. You know that it's a man, or woman, underneath that costume so that, to me, certainly takes away from how scary they come across. I can't even begin to describe the monsters, let's just say that they're still, budgetary limitations aside, pretty damn cool to watch. I just wish that the film's story was a little bit more compelling, because it feels like there's no reason for what's going on here. It's just a showcase for one guy's creativity. And I think that's fine, but the story definitely needed to be a little more compelling, particularly when the scares aren't really there. And there's not much gore either. Still, this film falls into the middle of the found footage genre. Not as bad as it can be, but nowhere near as close as the best of the genre. It's a decent film to watch if you have 80 or so minutes to waste.
Jesse Ortega
Super Reviewer
Frankenstein's Army Quotes
| | |
| --- | --- |
| Viktor Frankenstein: | He's obviously suffering from a little adjustment problem. |
| | |
| --- | --- |
| Ivan: | I'm liberating your rabbits from Fascist Oppression. |