Frankie and Johnny Are Married
(2004)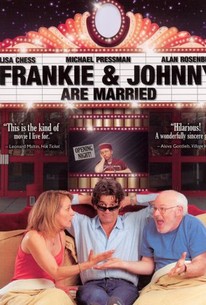 Frankie and Johnny Are Married Videos
Frankie and Johnny Are Married Photos
Movie Info
Successful television director and film producer Michael Pressman sets off with high hopes when he decides to helm a film production of +Frankie and Johnny in the Clair de Lune. He believes the experience of directing a film starring his struggling actress of a wife (Lisa Chess) will be a fun and relatively easy way to revitalize their marriage. Unfortunately, the decision to cast Alan Rosenberg to play Johnny proves disastrous -- Rosenberg is incredibly difficult to work with and Pressman's already tense relationship becomes steadily worse as the horrific rehearsal and filming process intensifies. The situation looks bleak when, after a devastating preview, Pressman is forced to shut down the play, relinquish his investment, and possibly lose his wife. Of course, the aggrieved director has one option: to take over the role of Johnny. The stakes have never been higher for the married couple, considering their future together appears to hinge on the final outcome of the film. Frankie and Johnny Are Married was directed in real life by the protagonist, Michael Pressman.
Critic Reviews for Frankie and Johnny Are Married
Audience Reviews for Frankie and Johnny Are Married
I didn't expect much, but it turned out a decent low-key comedy. Very funny at times and great storytelling.
Gabriel Knight
Not bad. I appreciate the sincerity in the film's intentions. It has a nice realistic style to it, the actors all do well. I found it just a little hard to get involved with the characters, the are well defined, but not particularly appealing. Worth a look though.
James Higgins
Beyond the participants' friends and co-workers, it's hard to imagine an audience for this professionally packaged exercise in navel gazing. It's a vanity project about a vanity project.
Lee Mayo
Frankie and Johnny Are Married Quotes
There are no approved quotes yet for this movie.
Discussion Forum
Discuss Frankie and Johnny Are Married on our Movie forum!