Fraternity Massacre at Hell Island
(2006)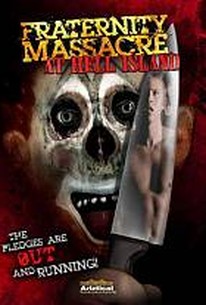 AUDIENCE SCORE
Critic Consensus: No consensus yet.
Movie Info
Director Mark Jones takes the helm for this gay-themed horror spoof about a Hell Night prank gone horribly awry. Twenty years ago, Hell Island was the site of a horrific Fourth of July massacre. Tonight, it's about to become the site of the Zeta Alpha Rho hazing ritual. When an escaped mental patient dons a creepy clown mask and begins methodically dispatching the eager-to-please pledges, closeted fraternity hopeful Jack Jones (Tyler Farrell) discovers that some urban legends die hard. But battling a knife-wielding maniac is nowhere near as terrifying as admitting your homosexuality to a houseful of testosterone-fueled jocks, and perhaps if Jack can make it through the night alive, he'll finally find the courage to embrace his inner queer.
Critic Reviews for Fraternity Massacre at Hell Island
All Critics (1) | Fresh (1) | Rotten (0)
A genuine jewel in the rough. With a budget not even as big as a lot of people's annual salary, it is superior to the majority of watered-down and/or glossy genre fare released by major studios each year.
Audience Reviews for Fraternity Massacre at Hell Island
hahahahaha this movie is hilarious. The acting is so atrocious, I couldn't stop laughing! The plot is so screwed up and is really hard to understand. The movie does a terrible job at setting the plot up. I can't even straight up tell you what the movie is about because after watching it, I'm not entirely sure myself. Something about a group of frat boys going to an island for Hell week and getting murdered by a clown- who is really just a fraternity reject. I think. I have to be honest, I didn't actually watch the entire thing. I watched a good bit of it though, and I might finish watching it later. haha it's too funny to just not watch. In the movie like everyone is crazy haha. They all talk to themselves and talk to "ghosts" and just say the creepiest/hilarious things in funny voices. It's amazing hahaha. Like everyone who goes to that college is so fucked up and psycho, but they're terrible actors so it's just fantastic to watch. It's like a freak show. I can't tell if the movie is even trying to be a good one. Some parts in the movie the actors look like they don't give a fuck about the film; they look like they lost a bet and were forced to participate. It kind of seems like the movie is a joke to them. The movie is definitely a joke though, so it's alright. The budget for this movie was probably around...maybe...20 bucks? Dirt cheap and you can tell. It was probably filmed at the college the actors attended at the time, so it was probably a free movie to make (assuming the actors didn't get paid and the director used a flip camera to film everything with). The camera guy(s) for this movie were either really bad, or the director lacked creativity. The shots for this movie were the same straight on angle for each scene. It felt like a home movie. On Netflix, this movie got 2.5 stars, which is more than most horror movies on Netflix. When I saw it had a somewhat good star rating and it was listed as "B-Movie Horror" under Genre, I thought hey, this might be a fun movie hahahaha was I dead wrong. It was a very funny movie, but it was definitely NOT a B movie at all. Whoever put that on Netflix either took part in making the movie (and wanted people to think it was better than it actually was), or they're a complete dumbass. It is a D-Movie at best...maybe a C-Movie if they purposely tried to make me laugh.
Fraternity Massacre at Hell Island Quotes
There are no approved quotes yet for this movie.