Frauds
(1993)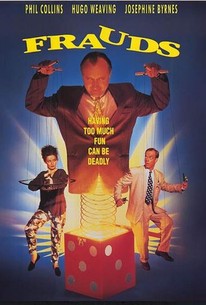 AUDIENCE SCORE
Critic Consensus: No consensus yet.
Movie Info
A sociopathic insurance investigator embarks upon a sadistic, twisted game of cat and mouse with a manipulative, conniving cheat in this Australian suspense thriller. The whole mess begins when the sick machinations and childish games of Jonathan Wheats get out of hand. One day he and his prankster pal Michael decide to "burglarize" Jonathan's home, steal a priceless silver heirloom, and file a false claim. Unfortunately, Beth, the wife knows nothing of it. She comes home during the "theft" and ends up killing Michael. She is acquitted of wrong-doing so Jonathan decides to proceed with the plan. That's when Roland Copping enters the picture. Roland, whose life was warped by a childhood trauma, is a game player too, and knowing full well that the Wheat's claim is bogus, he methodically begins destroying their lives until Jonathan snaps and decides to fight back.
Rating:
R
Genre:
, ,
Directed By:
Written By:
In Theaters:
On DVD:
Runtime:
Studio:
Lionsgate
Critic Reviews for Frauds
There are no critic reviews yet for Frauds. Keep checking Rotten Tomatoes for updates!
Audience Reviews for Frauds
First-time director Stephan Elliott breaks a lot of the rules by flinging typically disparate elements together with sublime confidence in order to creating a strange and deliberately unreal world for his eccentric characters. Elliott's thesis is that all men are children at heart - and that children are malicious, vindictive beasts. It's hardly an edifying conceit, and the movie has an over-insistent, meretricious feel about it.
Lee Mayo
½
That's a Duck, Not a Goose, Hugo We've been having a conversation online lately about whose version of the Joker is the best. Now, a group of us are maintaining that the Jack Nicholson Joker is really just Jack Nicholson in funny makeup, which is hardly a popular opinion. One of the people who disagrees and who dislikes the Heath Ledger Joker intensely says this is in no small part because Heath Ledger's Joker isn't funny. I pointed out that the issue is that the Joker is crazy, and expecting things to be funny to us which are funny to him may be a little too much to ask. But it's true that it's a fine line to walk; you must make the character entertaining enough to be worth watching, amusing enough so that you know that such things are funny in his head. At the same time, you cannot let him be a character like any normal character. If he isn't crazy, crazy enough to be seen to be crazy, you lose all sense of the character. Here, the issue is building how crazy the character turns out to be. One night, you see, Jonathan (Hugo Weaving) and Beth (Josephine Byrnes) Wheats were given opera tickets by his best friend (Peter Mochrie, I believe). Only Beth had a frazzled day at work, and she forgets all about it. She's come home to a message on the answering machine from Jonathan, demanding to know where she is, and she catches a burglar in the act. He comes at her with a knife, and she shoots him with a crossbow. Only then does he take off his mask and reveal himself to be her husband's best friend. She is let off on self-defense, and all goes on from there. But one day, Roland Copping (Phil Collins) shows up on their doorstep. He turns out to be the insurance investigator, and he thinks the whole thing is fishy. Of course, he turns out to be right, but what we quickly find out is that Roland is never going to win the Mr. Sanity award himself. Nor does he care that Beth didn't know what was going on. Beth turns out to be right about Jonathan in the end; once it becomes a game to him, it's fun. No matter how life-and-death the whole thing is. And no matter whose life and whose death. I'd have walked away from the whole thing long before then, even if it meant a prison sentence. Of course, it probably would have been a bit more difficult to convince people that she hadn't know what was going on once it was established that her husband was in on the whole thing. I suspect, though, that it's difficult to acknowledge that your husband is really four years old at heart and unable to recognize it himself. There's nothing wrong with playing with toy soldiers, but he can't resist a challenge, and it very nearly kills her. Very nearly killing him would, of course, be bad enough. But she's right when she finally explodes and asks him what thrill will be enough for him next time. It's a question he doesn't answer, probably because he can't face the answer himself. That part of the story is believable, but the Phil Collins character flatly isn't, and it destroys the story for me. Having him be a little mad would have been the first step to a great thriller. Having him be really crazy but in a different way could have worked, too. But he is not believably insane. He doesn't even come across to me as humourously insane. He comes across as "we don't know what crazy really looks like, so here's mild whimsy turned up to eleven." He would also have to be awfully good with his hands, because I can't imagine he got a legitimate architect to design that house or a legitimate contractor to build it. He assuredly would not have been able to get the necessary permits. He works for their insurance company somehow but doesn't have an office--or, it seems, any other cases to handle. He's free to do pretty much whatever he wants, and he must make an awful lot of money at it, all things considered. Especially given that he dumps the blackmail money into a hole in his floor filled with tons of other blackmail money. Honestly, I don't know if Phil Collins can act. It hasn't come up much. But this film isn't proof of much one way or another, because they never really give him anything to work with. Josephine Byrnes actually has a pretty good part, all things considered, having to show several emotions over the course of the film. Hugo Weaving briefly conceals exactly how nuts [i]his[/i] character is, though you know from the beginning that something isn't entirely right with him. But Phil Collins plays a completely unbelievable character. The fact that he doesn't make you believe it is therefore not his fault. I'm not entirely sure how this movie came to my attention; it was probably the Hugo Weaving connection. But it is on the unfortunately long list of Hugo Weaving movies I'm never going to see again. It's worth noting that, as a percentage of his career, there are more Phil Collins movies I'm never going to see again, though that may just be that he's in nothing but crappy movies.
Edith Nelson
Frauds Quotes
| | |
| --- | --- |
| Beth Wheats: | Whether it's playing with toy soldiers or ripping off insurance companies, it's all just a game. |
| Jonathan Wheats: | Yes, but it's his game, and we're losing. |
| | |
| --- | --- |
| Beth Wheats: | I'm damned if I'm going to let you destroy my marriage! |