Freaks Of Nature
(2015)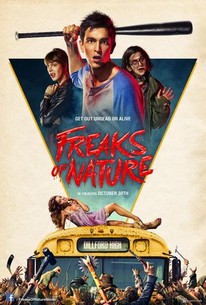 AUDIENCE SCORE
Critic Consensus: No consensus yet.
Movie Info
In Freaks of Nature, we welcome you to Dillford, where three days ago, everything was peaceful and business as usual: the vampires were at the top of the social order, the zombies were at the bottom, and the humans were getting along in the middle. But this delicate balance was ripped apart when the alien apocalypse arrived in Dillford and put an end to all the harmony. Now it's humans vs. vampires vs. zombies in all-out, blood-sucking, brain-eating, vamp-staking mortal combat - and all of them are on the run from the aliens. It is up to three teenagers - one human, one vampire, and one zombie - to team up, figure out how to get rid of the interplanetary visitors, and try to restore order to this "normal" little town.
Critic Reviews for Freaks Of Nature
All Critics (3) | Top Critics (1) | Fresh (0) | Rotten (3)
"Freaks of Nature" proves a lifeless combination of alien invasion saga, zombie thriller, vampire romance and high-school drama.

There's a whole lot of arid downtime in between the ostensibly colorful set pieces, and on the whole the movie seems like it was edited with a blender.

Doesn't offer connective tissue, bellylaughs, and scares. It's just a shapeless creation that didn't survive the production process, rendering a promising premise forgettable.

Audience Reviews for Freaks Of Nature
Bob Odenkirk, Ian Roberts, Denis Leary, John Ennis, Joan Cusack, Keegan-Michael Key, and Patton Oswalt are all featured in this high school drama/alien invasion/ZomRomCom. In a small Midwest town, zombies, vampires, and humans live, work, and go to school with one another. One day UFOs appear and everyone freaks out, dividing into groups in an all out fight to the death. The best parts are definitely when the above-mentioned actors are on screen.
D M
I'm not sure why this movie has harsh reviews. I honestly enjoyed this movie a lot. It was hilarious, sweet and kind of endearing. Combine all that with gore and fun effects--even a little romance...it was actually really good. I definitely recommend to fans of offbeat horror/comedies of the 80s. Sort of has that cheesy feel to it...in a good way.
Anne Marie Lopez
½
I enjoyed this movie in spite of its rating. The film mixes in various different horror subgenres of zombies, vampires, aliens (and humans) all doing battle against each other. The problem comes in the fact that the first half of the film really did absolutely nothing for me. I don't know, but it was just lacking from a comedic standpoint. I suppose it does set everything up with Petra being turned into a vampire and establishing that Ned and Dag had a friendship that is not there anymore at this stage in their lives. So these parts are definitely a little rough. The turning point is, clearly, when Dag, Petra and Ned escape the basement of Dag's former piano teacher. For some reason, this is when the film really turns it on and it actually is a whole lot of fun in parts. Not like I'd say the film's second half was consistently fun, it's just so much more enjoyable than what came before it. When you think about it, this film has a really damn good comedic cast. Bob Odenkirk, Joan Cusack, Keegan Michael Key, Rachel Harris, Denis Leary, Patton Oswalt, Pat Healy, Mae Whitman, in a regrettably small role, and even Werner Herzog voicing the Perfect Being. So you'd think that with that comedic pedigree that the movie would somehow be funnier than it ended up being. The problem is the fact that, out of all of these great comedic actors I just mentioned, maybe Bob and Joan, who play Dag's parents, get the most screen time out of anybody else. And they're not even on that much, so it's not like they can improve upon the film's material. Don't get me started on everyone else that the film, sadly, neglected to showcase more of. That really bothered me, that you have such a talented cast of people that you literally do nothing with. I think the movie more than makes up for it with an energetic and fun second half. Again, wouldn't call it consistent or anything of the sort, but at least it's got some sort of life in it. There's the obligatory romantic subplot between Petra and Dag, it's not great but it's something. Mackenzie Davis is a good actress, so she makes it work. The film embraces its sillier side, which is part of why I think the second half of the film works considerably better than the first. Don't really have much else to say about this movie, really. It's not good, and it barely makes it to an average rating. In spite of that, however, I found that a large part of the second half of the film was enjoyable and that's why the movie gets the rating it did. It just lacked consistent focus and consistent comedy. This isn't a bad film in the slightest, just one that, I felt, should've been better than it ended up being.
Jesse Ortega
Super Reviewer
Freaks Of Nature Quotes
There are no approved quotes yet for this movie.
Discussion Forum
Discuss Freaks Of Nature on our Movie forum!