Fred: The Movie
(2010)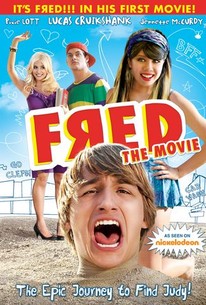 Movie Info
YouTube sensation Fred makes his feature film debut with this frantic comedy that finds the motor-mouthed suburbanite competing against his underhanded neighborhood rival Kevin (Jake Weary) for the affections of their pretty classmate Judy (Pixie Lott).
Critic Reviews for Fred: The Movie
Audience Reviews for Fred: The Movie
I could not tolerate the so called youtube videos.But when I heard that there's a film based on them, I thought how could you make a movie based on a terrible 5 minute video? And the film is just like the videos, absolutely terrible. Since the film was given a 12A, it was inevitable to accept the fact that its target audience couldn't go see the film alone, which explains its failure at the box office. The film is based on Fred going after his girlfriend and is help by his supposed father, who doesn't exist. The jokes were appalling as they would be either not funny or could only make sense to children who actually watch Fred. Regardless about how Fred the movie would never be a success,it may please those who watch his videos. A low budget, which it never reached. Hardly humorous jokes. This film was a very big mistake, it was probably better to have stayed with the videos, which were bad enough already. Fred the movie is a warning to those making movies based on youtube videos.
Samuel Riley
Super Reviewer
Horrific in so many ways. It's a vicious, uncompromising, malevolent rape of the senses. Whomever had the idea of turning some prick faced, twat voiced douches internet series into a film should be shot and shat on. Fred is the most annoying character ever invented and now he's on screen for an excruciating 90 minutes of crap. He's so annoying, even the characters in the film comment on how annoying he is. This only leaves me with the impression that he was supposed to be annoying, but why would anyone put an intentionally annoying character as the lead in a movie. This really should be avoided. Not funny, just loud and crass. Cruikshank is a loud and obnoxious waste. Poor, poor Pixie Lott. If you like lengthy scenes of annoying voiced idiots screaming, make sure you view Fred: The Movie.
Luke Baldock
Super Reviewer
What a waste of time! We can sit through Fred's YouTube videos because they're usually 2-3 minutes long but not through an entire 82-minute film with him! Fred gets critiscized for being annoying. Well, that's the point of his character. His videos are not hilarious but they deliver a few chuckles. This movie is not funny. Lucas Cruikshank didn't write the script. If he at least co-wrote the movie, the film could've been slighly better. The premise is just horrible and poorly conceived. Cruikshank is not a Hollywood actor. He's just a guy who knows how to act in front of a camera and act annoyingly. The dude who played Kevin was obnoxious and Pixie Lott's performance as Fred's love intrest, Judy, was terrible. Megan Fox could've been better. iCarly's Jeanette McCurdy added no feeling into her character, Bertha. Her character is supposed to be the weird goth punk girl who talks quietly but she could've been better. John Cena didn't make the movie better either. This was originally intended for a theatrical release but instead went to TV. This could have been an EPIC FAIL if it went to the theatre. Critics would've bashed it and it would be a HUGE FLOP!!! Kinda of glad Nickelodeon picked up the film. Whether you watch it on TV or some other way, the viewing experience would still suck. Five minutes into the film and you already want it to end. Suprisingly, we sat through the entire thing. If you're looking for a film with an annoying, immature, childish protagonist, we suggest Pee-Wee's Big Adventure. www.youtube.com/watch?v=OWCidnkhPtQ
Bentley Lyles
Super Reviewer
Fred: The Movie Quotes
| | |
| --- | --- |
| Fred's Dad: | I should have ejaculated in your mother's anus instead the night you were conceived. |
| | |
| --- | --- |
| Fred: | HEY IT'S FRED!!!! |
| Fred: | HEY IT'S FRED! |
| | |
| --- | --- |
| Fred: | What if I have to go to the bathroom? |
| Bertha: | Don't be a wong-i-mong-pong. Well, I'm goin' swimmin'. Later. |
| Fred: | I'M NOT A WIMP! |
Discussion Forum
Discuss Fred: The Movie on our Movie forum!