Freddie as F.R.O.7
(1992)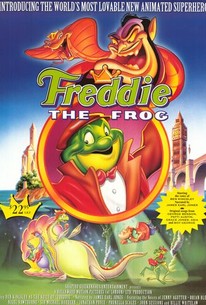 AUDIENCE SCORE
Critic Consensus: No consensus yet.
Freddie as F.R.O.7 Videos
Freddie as F.R.O.7 Photos
Movie Info
A steamer trunk full of the voices of British acting greats (Ben Kingsley, Billie Whitelaw, Michael Hordern, Brian Blessed, and Jonathan Pryce) enliven this absurd pop-cartoon parody of the James Bond films. In a prologue taking place in a faraway time, a widowed magician-king (voice of Michael Hordern) and his son, Prince Freddie (voice of Ben Kingsley) live in their lonely castle. Freddie's mean aunt Messina (voice of Billie Whitelaw), dead-set against Freddie becoming king, kills his father and transforms Freddie into a frog. Freddie escapes the wrath of Messina by jumping into the sea. Several hundred years later, Freddie is now living in modern day Paris -- a six-foot-tall amphibian with the moniker Secret Agent F.R.O.7. Messina, too, is still around causing mischief, joining forces with an arch-villain named El Supremo (voice of Brian Blessed) in a scheme to shrink Big Ben. Freddie, alerted to Messina's nefarious plans, gathers his fellow agents Daffers (voice of Jenny Agutter) and Scottie (voice of John Sessions) together, planning to hide out in Big Ben and surprise the evil doers when they are set to strike at the much-loved British landmark.
Critic Reviews for Freddie as F.R.O.7
There are no critic reviews yet for Freddie as F.R.O.7. Keep checking Rotten Tomatoes for updates!
Audience Reviews for Freddie as F.R.O.7
This parody of James Bond, specifically You Only Live Twice, is completely bonkers, stupid, and silly, but I'd be lying if I didn't say it was entertaining.
Todd Anderson
... Um... This is... I think it's... WHAT THE HELL DID I JUST WATCH?! It feels more like a drug-induced fantasy dream than the next beloved animated romp. Seriously, the movie stars a prince of the Middle Ages who gets turned into a frog and apparently also a Highlander, since he now exists in 20th century England, as a "secret" agent. (Not so secret if your face is in the papers, genius.) I will say this, Brian Blessed is enjoyably over the top, so one star for you.
Jordan Jenkins
Freddie as F.R.O.7 Quotes
| | |
| --- | --- |
| Freddie the Frog: | I wasn't a Prince I was so long ago |
| Freddie the Frog: | I wasn't a Prince I was so long ago. |
Discussion Forum
Discuss Freddie as F.R.O.7 on our Movie forum!