Free and Easy (Easy Go)
(1930)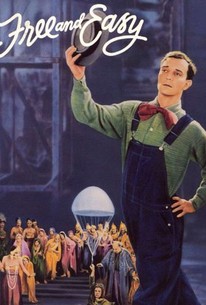 AUDIENCE SCORE
Critic Consensus: No consensus yet.
Free and Easy (Easy Go) Videos
Free and Easy (Easy Go) Photos
Movie Info
Buster Keaton's talkie debut (discounting his non-speaking guest appearance in Hollywood Revue of 1929) was Free and Easy, an uneven but generally amusing comedy with a Hollywood setting. When pretty Elvira (Anita Page) of Gopher City, Kansas wins a beauty contest, her prize includes a trip to Tinseltown and a screen test at MGM. Appointing himself protector of Elvira and her formidable mother (Trixie Friganza), gas-station attendant Elmer Butts (Keaton) accompanies them to California. Once they've arrived, Elmer manages to disrupt the daily MGM routine, stumbling into films in progress, knocking over sets and breaking props, and finding himself taking a screen test in which he repeatedly blows the single line "The queen has swooned" ("The sween has quooned", "The coon has sweened") over and over. Meanwhile, latin-lover film star Lorenzo (Robert Montgomery) sets his sights on innocent Elvira, attempting to seduce her while Elmer's back is turned. But Lorenzo turns out to be a good guy -- in fact, his real name is Larry, and he's a Kansas boy himself -- and he arranges for Elvira to get her big break. In a surprise turnaround, Elvira doesn't win a contract, but Elmer and Elvira's mom become popular musical-comedy stars! The film is studded with guest appearances by such MGM contractees as directors Cecil B. DeMille, Lionel Barrymore, Fred Niblo, and actors Gwen Lee, John Miljan, William Haines, Karl Dane and Keaton's then-girlfriend Dorothy Sebastian. Free and Easy was also filmed in French, Spanish and German-language versions, with Keaton speaking his words phonetically in all three. The film was remade as Pick a Star in 1937, and as Abbott and Costello in Hollywood in 1945.
Rating:
NR
Genre:
, ,
Directed By:
Written By:
In Theaters:
On DVD:
Runtime:
Studio:
MGM
Critic Reviews for Free and Easy (Easy Go)
All Critics (2) | Fresh (0) | Rotten (2) | DVD (1)

Ozus' World Movie Reviews
...the studio wanted him to say funny things rather than do funny things, and they were eager to show off their new sound equipment with numerous song-and-dance routines.

Audience Reviews for Free and Easy (Easy Go)
Free and Easy is probably one of the most depressing movies I've ever watched, and not because of the film itself, but because of all the missed opportunity. In Buster Keaton's first talkie there's little to no slapstick. Yeah, one of the best slapstick artists in history has a movie with none of the craft. Even with some great scenarios, like a train and several movie sets, no one gives him any good gags. Buster wasn't just slapstick though, he also had a lot of other good qualities too, so maybe those will rise here. Nope, each attempted joke falls flat, and sometimes it seems like it's not even a comedy. The lack of Buster's energetic tone doesn't help either, the whole thing's just boring. As you might have noticed, Buster Keaton's talents are very underused here, along with the man himself. Most the time it seems like they're trying to keep him out of his own movie, then we're left with some truly boring and annoying characters. Our female protagonist is wishy washy and honestly doesn't do anything in the plot, and her mother is loud and irritating, not the cast you'd want to stay with for about 90 minutes. The other male protagonist is just as bad, and pretty darn generic, I honestly can't think of anything to say about him except he's the typical jerk in these films. Overall Free and Easy is a dreadful experience, and is made even worse by a terrible misuse of Buster Keaton. The only good thing I can say about it is the title musical number isn't that bad, but it's at the end and is rather short. Just go watch a good Keaton picture like The General, Steamboat Bill Jr., or The Navigator, and avoid this one at all costs.
Matthew Oldham
½
I liked this movie for most of it, but the ending is disappointing. It starts out very funny, but slowly looses steam and doesn't end well. I only recommend this to big fans of Keaton who, like me, just want to see all his movies.
½
My first buster Keaton talkie - before this, I was unaware of Keaton even having a voice and finally hearing it took away some of the comedy with the companioned dead pan face. Free and Easy is a major flop: No character is likable, the comedy is really forced and dated, and its ending is a real downer. I usually like my movies to end that way, but knowing that Keaton was then being limited by a studio, it angers. Although Keaton manages to inject some of his comedy every so often (Portions with visual sight gags which are funnier than 90 % of the jokes in the dialogue), the studio interference outweighs the positive. The setting is quite boring (Train then movie studios) though it carries a lot of metaphors for the relationship between MGM and Buster Keaton. I saw Free and Easy along with the two other Keaton films featured in the Buster Keaton Collection pack, and an interesting documentary short was on Disc 2, entitled So Funny It Hurt: Buster Keaton & MGM. It explains how Keaton's classic films were ripped off later on, how he was manipulated and limited by MGM, how his early silent masterpieces went unnoticed until years later, and how personal struggles including alcoholism and divorce tragically changed his way of participating with his films. The documentary short (Which I probably won't be able to add to Flixster's database since it premiered on TV) gets 7.5/10, Free and Easy gets 5.5/10
Richard Cranium
Free and Easy (Easy Go) Quotes
There are no approved quotes yet for this movie.