Free Willy 3: The Rescue
(1997)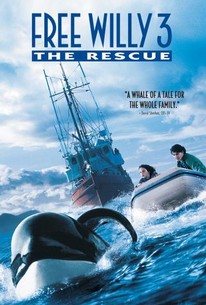 Free Willy 3: The Rescue Photos
Movie Info
In the third installment in the Free Willy series, Jesse (Jason James Richter), the once-troubled youth whose life was changed by his friendship with the killer whale Willy, is spending the summer on board a ship assisting a group a whale researchers, including his old friend Randolph (August Schellenberg), and Drew (Annie Corley), an oceanographer. Jesse once used a harmonica to communicate with Willy, and when he plays his mouth harp through the ship's underwater sound system, he is able to find his old friend, who is now raising a family of his own. As Jesse, Randolph, and Drew are out to study and assist the whales, a ten-year-old boy named Max (Vincent Berry) is accompanying his father John Wesley (Patrick Kilpatrick) on the fishing boat that John helps to run. Max soon discovers that John and the crew are not fishing for salmon, as he believed, but killer whales, which is illegal, but very profitable, as whale meat fetches $200 a pound on the black market. Jesse meets Max on shore, and when Jesse learns what John and his crew are up to, he tries to teach Max that while his father may not be a bad man, he's doing a very bad thing in killing the whales, who are intelligent, compassionate, and deserve the right to live; Jesse also acts to save Willy and his family from John and his fellow poachers. As in Free Willy 2: The Adventure Home, Free Willy 3: The Rescue used mechanical and animated whales rather than flesh-and-blood aquatic mammals. ~ Mark Deming, Rovi
People Who Like this movie also like
Critic Reviews for Free Willy 3: The Rescue
Audience Reviews for Free Willy 3: The Rescue
The weakest in the series! I did not find much to like about this film!
½
They had already done captivity and environmental issues , now they focus on the illegality of whale hunting. I think out of the three films this film was the most serious. As a Kid I did not really like it because I was to used to the family-like background of the first two, but as a recent watcher of this, it's not so bad at all. It really promotes and shows the harms of whaling in a way that our young society may relate too. I only did not like the film quite as equally because it had a lack of characters - no anne, no glenn, not even a mention of Elvis. It strolled away from the original two but it done well at doing so. It's worth a watch for adults and a worth buying for your kids to show the importance of these issues that do not only face whales, but many specices on earth.
Bobby Hobbs
Super Reviewer
½
Still a fun series and almost as good as the first two.
Jason Spencer
Super Reviewer
Free Willy 3: The Rescue Quotes
There are no approved quotes yet for this movie.