Freejack
(1992)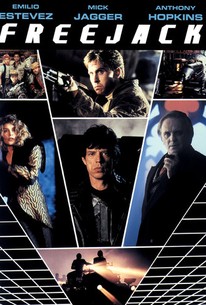 Movie Info
Alex Furlong, a race driver from the present (Estevez) is transported, just before his fatal crash, to the future where dying corporate CEO McCandless (Hopkins) plans to take over his body. Furlong escapes and tries to survive in a world he knows nothing about. Interesting concept but the movie is all style and no substance.
People Who Like this movie also like
Critic Reviews for Freejack
Audience Reviews for Freejack
Loosely adapted from the sci-fi novel 'Immortality, Inc.' back in 1959 but failing to match the original source and instead opting for a more cyber punk/neo distopian future mix which almost always tends to fail in films for some reason, accept for 'Blade Runner'. A few films spring to mind like 'Johnny Mnemonic' and 'Lawnmower Man' when watching this as all are the same kind of future based flop, over the top with terrible effects, sets, costume and acting, all as if no one actually attempted to make the films appear realistic or coherent. 'Freejack' is slightly better than the others with a more stable plot and a half decent style and look but the casting was horrendously bad and ruined any chance of even the smallest kudos. Estevez simply isn't a good actor and that's it, he can't play the action man and proves it here. Russo in my opinion is like a piece of wood and not much better looking whilst Jagger is in there as a gimmick to try and gain more interest simply because its Mick Jagger playing a villain, plus he looked ridiculous wearing that fighter pilot helmet thing. Hopkins is obviously there to try and gain some respect for the film and add a touch of sci-fi class but he can't save it and comes across rather flat. Uninspiring.
Phil Hubbs
Super Reviewer
I saw this a long time ago, I need to watch it again. I remember that Emilio Estevez and Mick Jagger were really cool in this movie, and it had an interesting futuristic story.
A pretty good time travelish movie. I liked the action and the fish out of water vibe we have with Estevez running around the future not knowing who to trust. It's fun.
Jason Spencer
Super Reviewer
Freejack Quotes
There are no approved quotes yet for this movie.