Freeloaders
(2013)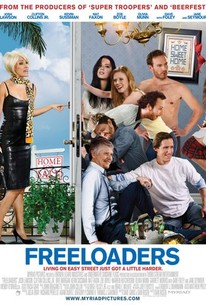 AUDIENCE SCORE
Critic Consensus: No consensus yet.
Movie Info
A group of slackers living for free in a rock star's mansion suddenly find their lives on easy street threatened when the musician decides to sell his pad. To stop the sale the gang comes up with a series of ludicrous and hilarious schemes to insure the house never sells. From the producers of Beerfest and Super Troopers comes the stoner comedy of the year staring Olivia Munn, Dave Foley, Jane Seymour, Nat Faxon, Denise Richards, Josh Lawson, Zoe Boyle, Clifton Collins Jr., Kevin Sussman, Warren Hutchinson, Brit Morgan and featuring music by The Counting Crows. (c) Salient Media
Rating:
R (for crude sexual content, nudity, language and drug use)
Genre:
Directed By:
Written By:
In Theaters:
On DVD:
Runtime:
Studio:
Audience Reviews for Freeloaders
Does the world really need a Kevin Smith movie ripoff? Or, to be more precise, does it need to be a failed attempt at one? Freeloaders lacks character, acting ability, humor, and charm. What it does have is wasted talent. For example, not even Olivia Munn can save this dreary movie. And even when you have Dave Foley in a cameo appearance, that scene is nowhere near funny. In fact, that's basically this whole movie. It is a giant waste of time and talent. But, there are movies about slackers that are funny (wasn't there a movie like this called Clerks?), but Freeloaders is not that movie. It is not the worst comedy film, but it definitely isn't a good movie and leaves you wondering what these actors were thinking to be involved in a project like this.
Aidan King
½
You wont hear a lot of hype about it, nor will it bring big money. That's because it doesn't deserve either. It's a waste of free time.
Steve Scully
Crashing a few days since 2005. Good movie. Overall a cool, fun flick.The cast is great and very funny. They have a lot of chemistry together and there are a lot of surprise guest appearances. I don't want to give too much away but I was surprised as to how many cameos this film had. Give it a shot. It's not the greatest movie, but not the worst either. Had a couple of good LOL lines. If you want a few cheap laughs with an actually good story for a comedy, check it out. A group of slackers who are living for free in a rock star's mansion find their sweet lives threatened when the musician decides to sell his pad.
Freeloaders Quotes
There are no approved quotes yet for this movie.