The French Lieutenant's Woman
(1981)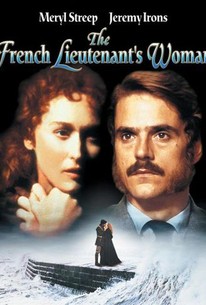 The French Lieutenant's Woman Photos
Movie Info
In this filmization of John Fowles' original novel, we watch as Sara, a 19th-century Englishwoman ruined by an affair with a French lieutenant, enters into another disastrous relationship. Viewers are made aware that what they're seeing is a film. This is done by surrounding the story with a modern narrative.
News & Interviews for The French Lieutenant's Woman
Critic Reviews for The French Lieutenant's Woman
Audience Reviews for The French Lieutenant's Woman
Emile Tremblay
Super Reviewer
This film interweaves two two-character dramas: as adulterous actors film a melodrama about a 19th Century adulterous couple, they begin to develop their own off-the-set feelings. As a fan of his stage work and the film The Last Tycoon, I was excited to see more of Harold Pinter's work, but The French Lieutenant's Woman conspicuously lacks Pinter's characteristic pregnant pauses and focus on subtext. Yes, there's is a short scene between Smithson and his servant when we're to understand that the latter is blackmailing the former, but it's hardly as rich as Pinter's stage work. My expectations notwithstanding, the script provides us with precious few compelling scenes. More importantly, for most of the film I was unsure about why these two stories were being juxtaposed. What is this film saying about relationships and adultery? Sometimes it works, sometimes not? It's destructive? Either way, there's not much to sink our teeth into. Jeremy Irons and Meryl Streep try their best to wring some meta-textual complexity out of the story, but whereas Roger Ebert sees depth in their performances - he states, "Everything they say and do has another level of meaning, because we know the 'real' relationship between the actors themselves" - I saw actors and characters divorced, separated, as though these were two films that happened to be cut together. Thus, what I think is true of the script is also true of the performances. Overall, the film's attempt to become greater than the sum of its parts only leaves us confused.
Jim Hunter
Super Reviewer
½
Extremely well done, slow and deliberate unraveling of two intertwined love stories.
The French Lieutenant's Woman Quotes
There are no approved quotes yet for this movie.