French Sex Murders (Casa d'appuntamento)
(1972)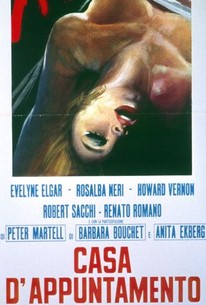 AUDIENCE SCORE
Critic Consensus: No consensus yet.
Movie Info
A lesser-known but memorably bizarre giallo thriller from Italian filmmaker Ferdinando Merighi, directing here under the pseudonym of "Fred Lyon Morris," this unusual shocker has a petty thief named Antoine falsely sentenced to death for the murder of a high-class prostitute (Barbara Bouchet) at a brothel run by Madame Colette (Anita Ekberg). The first of the film's risible plot machinations has the wrongfully condemned Antoine putting a curse on his accusers, escaping as he is about to be guillotined, and then being decapitated anyway after leading authorities on a motorcycle chase. One of the judge's friends is a doctor named Waldemar (Howard Vernon) who does experiments on the deceased non-killer's eyeballs; when the judge is murdered, everyone is sure that Antoine is getting revenge from beyond the grave. It certainly seems coincidental that everyone who is being murdered was at Madame Colette's brothel on the night Antoine was arrested, but the real killer was there too, and gorily claims several more victims before being chased up the Eiffel Tower in the film's mind-boggling conclusion.
Rating:
R
Genre:
, ,
Directed By:
In Theaters:
On DVD:
Runtime:
Cast
Critic Reviews for French Sex Murders (Casa d'appuntamento)
All Critics (1) | Fresh (0) | Rotten (1) | DVD (1)
jawdroppingly bewildering and a deliriously entertaining exploitation treat
About the closest French Sex Murders comes to those yellow Italian pulp paperbacks is the ancillary 'giallo' moniker plastered on the production.

Audience Reviews for French Sex Murders (Casa d'appuntamento)
With a name like "The French Sex Murders" you know the film is going to be brimming with class. Well what else can you expect from smarmy schlock producer Dick Randall who traveled all over the world to hop onto any bandwagon he could in order to make a quick buck. With "The French Sex Murders" he jumped on the Italian Giallo train of success going as far as giving the film a title that would capture more attention and even casting a professional Humphrey Bogart lookalike as the lead inspector. Well if he was shooting for making a trashy Giallo murder mystery with the most ridiculous plot twist imaginable then he succeeded. Our film opens with a man jumping off the Eiffel Tower to his death then we jump into a plot of a young man that steals some precious jewels. His first stop is a bordello (headed by cult icon Anita Ekberg) to ask his favorite prostitute to marry him. She refuses and proceeds to beat the shit out of her calling her a whore (hmmm.... was he unaware of her profession). Well after his departure the prostitute is found dead so in comes inspector 'Bogart' who captures the goon while threatening to hurt his ex-wife and her new lover (this guy is so loveable!). He escapes after being convicted of murder the next day (the courts work fast in Europe apparently) only to behead himself in a motorcycle accident. Well apparently he wasn't the killer as the murders continue on as people connected to the bordello mysteriously start to die off. Producer Dick Randall and director Ferdinando Merighi throw everything they can into this poor example of a Giallo in order to make it stand out when compared to other films in the over saturated genre. Not only to we get in in-your-face title and a Humphrey Bogart look-a-like but also mad scientists, a murderous eyeball collector, hooded figures, incestuous fathers and even supernatural elements when our thief threatens to rise from the dead and later his bodiless head blinks! Seriously what-the-fuck! They also throw in the most ridiculous plot twist in Giallo history at the end when it is revealed who the real killer is and his true motive behind his actions. Ferdinando Merighi, a real nobody in Italian cinema, was a cheap Dario Argento wanna-be that desperately tries to make the film 'stylistic' but instead his approaches are just more annoying. When our thief is convicted and he threatens the whole court that he will rise from grave, Merighi has the picture go to negative colors. Really? The most annoying aspect is that every killing in the film is replayed at least four times simultaneously, each time the picture toned a different color (red, blue, yellow, etc). Seriously this was just a lame method in order to mimic much more successful directors in the genre. The cast may be full of interesting Euro cult actors but this is an extremely poor example of the Giallo genre, even for a more trashy entry. The filmmakers throw everything in but the kitchen sink to make this stand out among other, much better examples but nothing sticks. It's worth a look for fans of bizarre cinema but there are much better, more entertaining examples of the genre available and fans wanting a truly interesting trashy entry are better off hunting down "The Case of the Bloody Iris."
Eric Reifschneider
½
The French Sex Murders has moments of stylish surrealism that might mark it as a classic of he giallo genre, but unfortunately it devolves into a forgettable, unstylish, and unoriginal piece of thriller trash.
Al Miller
terrible, unwatchable. Badly edited, horribly dubbed, and spliced together with "missing" or "cut" scenes. Sad, since it had such promise.
R.John Xerxes
Discussion Forum
Discuss French Sex Murders (Casa d'appuntamento) on our Movie forum!
News & Features