Frequencies
(2014)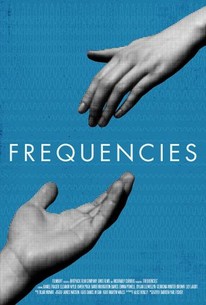 Movie Info
What if physics determined the laws of attraction? In a parallel world where human frequencies determine luck, love, and destiny, Zak, a young college student, must overcome science in order to love Marie, who emits a different frequency than his own. In an attempt to make their love a reality, Zak experiments on the laws of nature, putting in danger the cosmic equilibrium of fate and everything he holds dear. This unique and experimental drama blends science fiction and romance to create a futuristic tale where love, science, and fate collide. (c) FilmBuff
Critic Reviews for Frequencies
Audience Reviews for Frequencies
A very interesting and remarkably intelligent film of ambitious ideas that is mostly impressive due to its well-constructed plot and clever use of colors to associate the characters' personalities with their frequency levels - red being the lowest frequency in the visible spectrum and purple the highest.
Carlos Magalhães
Super Reviewer
Metaphysical, futuristic, and resoundingly thought-provoking, Frequencies is the rare example of an intellectual film-making exercise that also works as a romantic drama. It's a film that doesn't spoon-feed the audience, but rather presents itself on its own terms, and lets itself unfold organically as such. It's a film of dramatic weight and insight, but also a film whose ideas sometimes get way from itself, leaving the viewer occasionally perplexed. The film unfolds in a world where the frequencies that we emit determine our personality, life-path, and our romances. This is ingrained from an early age, in which frequencies are measured and used to dictate the lives of those at its mercy. In Frequencies, we find a young college student, Zak, falling hopelessly in love with Marie, whose higher frequencies otherwise precludes such a romance. What results is a journey in which Zak experiments with countless metaphysical techniques to change his frequency, seemingly succeeding and causing a ripple effect. Certainly the most impressive thing about Frequencies is the script. It's fresh, innovative, and undeniably intelligent. Its ideas are presented with confidence and great skill. The direction and overall world building of the film accentuates this. The acting is resoundingly strong, featuring a strong ensemble cast. The film's dramatic elements, however, take a back seat to the sometimes confounding narrative, which I felt got ahead of itself at times. There's a fine line between smart and inaccessible, and Frequencies flirts with that to a large degree. The last act especially gets a bit muddled by the constant change in point of view, feeling a bit too clever for its own sake. Overall, it's a strong, uniquely conceived film that deserves to be seen. 4/5 Stars
Jeffrey Meyers
Super Reviewer
Discussion Forum
Discuss Frequencies on our Movie forum!