Friday Night
(2003)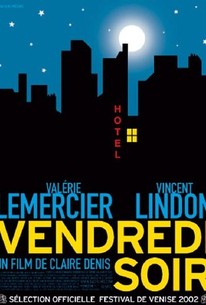 Movie Info
Paris resident Laure (Valerie Lemercier) has just finished packing her belongings in preparation for moving in with her lover, though she is oblivious to her apparent jitters at doing so. As she leaves her apartment for the night to join a pair of friends for dinner, Laure gets held up in traffic, due to a crippling public transportation strike. As she waits in her car, she finds a sense of serenity in the midst of all the chaos and begins to watch a number of people as they work their way through the congestion. One man in particular attracts her attention, as he also seems to be calmly regarding the traffic jam and its participants. The man, Jean (Vincent Lindon), gets into Laure's car and transports her down a number of side streets and away from all the confusion -- as both the strangers begin to feel an attraction toward one another. Director Claire Denis' Vendredi Soir was selected to compete in a number of film festivals in 2002, including the Venice Film Festival and the Toronto International Film Festival.
Rating:
NR
Genre:
,
Directed By:
Written By:
In Theaters:
On DVD:
Runtime:
Studio:
Critic Reviews for Friday Night
Audience Reviews for Friday Night
This is an unconventional movie in a sense that it doesn't rely on a structure an average moviegoer would expect. It features little dialogue and minimalistic plot, and relies on visuals and emotions to convey the story.
Gabriel Knight
½
Very enjoyable movie. Unlike 'Chocolat' it's not full of historical, social stuff. However, what I like most about Claire Denis is that she films people when they're not talking, when they're alone and then you can really see how odd all our various social interactions and institutions are. She's like a film-poet of the mundane, of sexual and social tension and anxiety, and especially of desire.
Courtney Smith
Helloooo, Claire Denis. Word on the street is that her great body of work over the last decade are only rivaled by the best of the best, so I chose 2002's Friday Night to pop my Denis cherry. There's a story going on, but it's almost secondary: a French woman is in the process of moving out, and on the way to dinner with friends she encounters a man looking for a ride and they get stuck in a traffic jam, and the romance begins. I also heard that Denis typically casts really hot leading ladies in her films and she's not messing around with this Valerie Lemercier, who is quite stunning in a totally appealing, earthy way. It's unconventional in that unlike most movies, it doesn't go through peaks and troughs or the buildup-climax-resolution formula, but in the insignificant and typical Denis finds the poetic and dream-like. The erotic scenes are inevitable, and it's not quite the climax of the movie, so to speak, as it just...happens in an oddly ordinary way. She embraces intimacy, shooting the scenes with extreme close-ups, follows along movement, and lets the scenes linger for longer than most may hope. Example, for the first five minutes Lemercier marks boxes, takes a bath, and other seemingly uninteresting things, with no semblance of a narrative going on. But Friday Night is more about finding beauty in the daily grind of life, even things we take for granted, than actually telling a story. It's an empowering, optimistic message, and most will find this style grating and unbearable, but I was so immersed into this impossibly blissful atmosphere that I felt effortlessly carried along with the ride. I look forward to more.
Lester Yabut
Discussion Forum
Discuss Friday Night on our Movie forum!