Friday the 13th Part 2
(1981)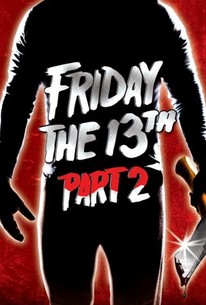 Friday the 13th Part 2 Photos
Movie Info
Two months after the events of the original Friday the 13th, Alice (Adrienne King), the lone survivor or Mrs. Vorhees' killing spree, meets a grisly end in her city apartment. Five years later, a new group of co-eds converges near Camp Crystal Lake, scene of the original massacre and the drowning of Jason Vorhees that preceded it. This time around, the horny collegians attend a nearby training school for camp counselors. As half the group parties in town, an unseen assailant picks off the other half one by one. Only when camp leader Paul (John Furey) and his girlfriend, Ginny (Amy Steel), return to camp do they uncover the identity of their stalker -- none other than Jason (Warrington Gillette) himself, alive but grotesquely deformed as a result of his childhood drowning. Flashbacks chronicle Jason's behind-the-scenes activities in the first film (perhaps explaining how his mother was able to throw the dead bodies of muscular youths through windows with such apparent ease). The young couple's only hope to defeat the fiend lies in psych major Ginny's insights in Jason's mental state. ~ Brian J. Dillard, Rovi
People Who Like this movie also like
News & Interviews for Friday the 13th Part 2
Critic Reviews for Friday the 13th Part 2
Audience Reviews for Friday the 13th Part 2
After a long recap of the first movie and impressive long takes in a tense opening scene, this equally brainless sequel just follows the formula of its predecessor - only with more fun gore -, helping define the now well-known clichés of the genre including an indestructible villain.
Carlos Magalhães
Super Reviewer
There were some jumping moments in it (well the music was effective I must say). But I don't recommend anyone to watch this. You'll find yourself muttering crap, crap, crap, crap... all the way to the end.
Dead Angel
Super Reviewer
This was the first, in what turned out to be several, Friday the 13th sequels. The original idea was to attach the Friday the 13th moniker to a Horror movie every year, without the movies having any continuity to the original film. The "Halloween" franchise actually practiced this idea, when they released, "Halloween III: Season of the Witch". The 1983 release entirely distanced itself from the main antagonist of the series, Michael Myers. It also went on to bore audiences to tears, on it's way to bombing at the box office. Five years later Michael Myers returned. Wisely, Paramount prevented the folly of straying from an established brand, and insisted that Jason Voorhees take over as the villain in the series, and millions of dollars later, the rest is history. Stylistically, the film is nearly identical to the original. The direction of the film borrows heavily from the Italian slasher films that came before it. In this case, borrowed heavily is a gross understatement. Steve Miner, the film's director, went on to lift scenes directly from Mario Bava's, "Twitch of the Death Nerve". The most notable example is when Jason drives a spear through a pair of lovers. The scene is a shot-for-shot ripoff of the one that originated in the Bava film a decade earlier. Plagiarism aside, there are plenty of other things in the movie that annoy me. The body count rises so it doesn't seem quite as slow as it's predecessor. Still, it's downright brutal watching the counselors, literally killing time, in between meaningful scenes. In "Friday the 13th: Part 2", we get to see counselors playing chess, arm wrestling, and screwing around with vintage handheld video games. All the while, engaging in tediously forced dialogue. The plot holes that became a staple of the franchise are also very evident here. What's always bothered me, is how Jason ended up discovering the "Alice" character from the previous movie. I don't understand, did he just look her up in the phone book, or what? Well, he must have, because she received a creepy phone call, just minutes before her life was ended with an ice-pick. But that would have meant that Jason called her from within her own house, right? Or, maybe she had another deranged stalker. You'd think she would have explored some witness protection options. I don't know why I'm trying to apply logic here. Speaking of Jason, he was far from perfected at this point. Watching the character run is awkward. While watching him struggle to overtake the "Paul" character in a wrestling match is shameful. Aside from that, when Jason's on camera, he is no more intimidating than any other inebriated imbecile with a pair of overalls and a bag over his head. In case you haven't already figured it out, I'm not a very big fan of this chapter. I suppose it's taken on some sort of cult following, but that doesn't mean it's good. If you're set on watching all of the "Friday's", I suppose this is a necessity. If you just want to see a good slasher film, might I suggest, "Twitch of the Death Nerve". The makers of this film sure must've enjoyed it.
Jason Calvin
Super Reviewer
Friday the 13th Part 2 Quotes
| | |
| --- | --- |
| Paul: | I don't wanna scare anyone, but I'm gonna give it to you straight about Jason. His body was never recovered from the lake after he drowned. And if you listen to the old-timers in town, they'll tell you he's still out there, some sort of demented creature, surviving in the wilderness, full grown by now... stalking... stealing what he needs, living off wild animals and vegetation. Some folks claim they've even seen him, right in this area. The girl that survived that night at Camp Blood, that... Friday The 13th? She claimed she saw him. She disappeared two months later... vanished. Blood was everywhere. No one knows what happened to her. Legend has it that Jason saw his mother beheaded that night. Then, he took his revenge, a revenge he continued to seek if anyone ever enters his wilderness again. And, by now, I guess you all know we're the first to return here. Five years... five long years he's been dorment. And he's hungry. Jason's out there... watching... always on the prowl for intruders... ready to kill... ready to devour... thirsty for young blood. |
| | |
| --- | --- |
| Crazy Ralph: | (to Jeff and Sandra) - I told the others, they didn't believe me. You're all doomed. You're all doomed. |
| | |
| --- | --- |
| Ginny: | It's more fun when I use that child psychology on you. |
Discussion Forum
Discuss Friday the 13th Part 2 on our Movie forum!