Fright Night 2
(2013)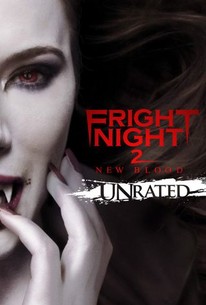 AUDIENCE SCORE
Critic Consensus: No consensus yet.
Movie Info
By day Gerri Dandridge is a sexy professor, but by night she transforms into a real-life vampire with an unquenchable thirst for human blood. So when a group of high school students travel abroad to study in Romania, they find themselves ensnared in Gerri's chilling web of lust and terror. Charley and "Evil" Ed must stop Gerri from drinking and bathing in the blood of a "new moon virgin," which just so happens to be Charley's ex-girlfriend, Amy. They enlist help from Peter Vincent, the vampire hunting host of a reality show called "Fright Night," to drive a stake through Gerri's plan and save Amy from a fate far worse than death.
Critic Reviews for Fright Night 2
All Critics (3) | Fresh (0) | Rotten (3)
A quick, cheap, churn-it-out product that offers nothing you haven't seen before.
Fright Night 2: New Blood is a remake unfairly masking itself as some sort of sequel, slowly revealing itself to simply be an inferior, unnecessary production compared to 2011's surprisingly satisfying effort.
expends too much effort following the story laid out by Tom Holland in 1985
Audience Reviews for Fright Night 2
The inappropriately named "Fright Night 2" is far and away the worst entry in the Fright Night franchise, but not completely lacking in merit. I say inappropriately named because it is neither a sequel to the original Fright Night (which already had a Part 2) nor is it a sequel to the 2011 remake of Fright Night as I had assumed it would be. Instead it is another remake of Fright Night, completely ignoring the events of all 3 previous films and re-casting/re-telling/re-imagining the first plot. So yeah, you should probably know that going in.
Decent, no where as epic as the first movie though.
Shawn Montague
Super Reviewer
A re-envisioning of the original 1985 cult classic, Fright Night 2: New Blood is misguide and poorly made. In this version Romanian college professor Gerri Dandridge is discovered to be a vampire by a group of visiting American students who then seek out a horror reality show host for help in killing her. The casting of Jaime Murray as Gerri Dandridge is inspired and really adds a new dimension to the character. However, the rest of the casting is incredibly poor. The directing is also pretty bad, and is unable to bring any intensity or danger to the film. Though Fright Night 2: New Blood presents an interesting take on the material, it doesn't work and is vastly inferior to the original.
Dann Michalski
Super Reviewer
Fright Night 2 Quotes
There are no approved quotes yet for this movie.